How does solar radiation vary by location?
The amount of solar radiation is affected by the geographic location, the season, and the climate conditions of the location. For example, the amount of available solar radiation in Phoenix, Arizona is greater than that in New York City. If we install two lighting systems located in these two cities with the same components, the system in New York City will require a larger solar panel to power the system reliably. The National Renewable Energy Laboratory (NREL) has detailed statistical information about the amount of solar radiation at different locations across the U.S. Figure 7 shows two examples of NREL solar radiation data. The first example shows the average daily amount of solar radiation on horizontal flat panels on an annual average. The second example shows the same information for the month of December only.
Figure 7. Examples of NREL solar radiation data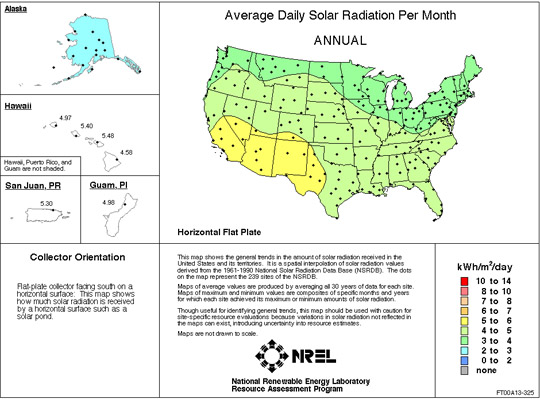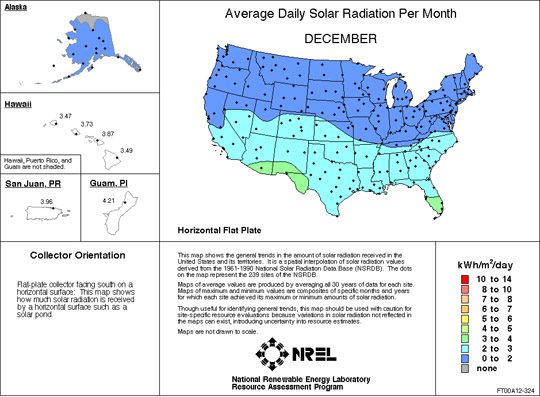 Source: National Renewable Energy Laboratory (NREL) Resource Assessment Program
NREL also provides data on daily total solar radiation for different months in various US cities. Using these data, NLPIP performed a comparison of the relative size of photovoltaic (PV) panels needed for different PV lighting systems in different months of a year for various US cities. The results of this evaluation are shown in Figure 8. These comparisons provide two examples of PV lighting systems. The first system is a parking lot luminaire mounted at a height of 10 ft (3.0 m) that will provide approximately 10 lux or 100 moonlights illuminance on the ground; the second is a post-top luminaire mounted at 8 ft (2.4 m) that will provide about 0.5-lux (5 moonlights) illuminance. The comparisons assume a luminaire that has a single light source and an optical efficiency of 50%, which uniformly distributes all light output on a circular area with a radius equal to the pole height.
The assumptions for both of these PV lighting systems are:
The lighting will be turned on for 8 hours of operation at night, per day.

PV panel conversion efficiency is 10%.

A fixed-direction horizontal (facing up) flat PV panel is used.

Electronics efficiency (including charge controller and dc ballast for the compact fluorescent lamp [CFL] or dc driver for the light-emitting diode [LED]) is 80%.

The battery is sufficiently sized and has a battery charge/discharge efficiency, including conduit loss, of 60%.

The light source efficacy is 65 lumens per watt (LPW) for the CFL and 25 LPW for the LED.
The parking lot luminaire uses an 11-watt CFL powered by a dc ballast, with a total system wattage of 13 watts. The post-top luminaire uses a 1-watt white LED powered by an LED driver, with a total system wattage of 1.5 watts.
The numbers quoted above are typical values for PV-powered luminaires. They assume that the battery capacity of the system is large enough to allow necessary discharge for powering the lamp. Rural roads and parking lots are often unpaved and create a lot of dust, which can block solar irradiance. In northern locations, snow may cover PV panels, blocking much of the solar irradiance. For the purposes of this example, the PV panel was assumed to be cleaned regularly and therefore free of dust and snow, so its conversion efficiency remains stable throughout the year. These two systems were selected for comparison to illustrate the difference in the size requirements for PV systems designed for two different types of lighting applications. The parking lot luminaire, designed to provide 10 lux (100 moonlights) on the ground, uses a CFL because this is the most efficient source currently available that can provide this light level at the selected mounting height of 10 ft. (3.0 m). 10 lux (100 moonlights) is similar to light levels found in many parking areas that are not heavily trafficked at night.
The post-top luminaire is designed to provide a much lower light level, 0.5 lux (5 moonlights), at a mounting height of only 8 ft (2.4 m). This luminaire uses an LED because it is the most efficient source capable of providing this light level. CFLs, for example, are not available in lumen packages small enough to provide a light level this low at this mounting height. This post-top luminaire would be appropriate for pathways and other types of lighting applications in rural or remote areas where the surrounding nighttime conditions are very dark.