What factors should be considered when selecting a luminaire for PV lighting?
Luminaires for photovoltaic (PV) lighting systems are similar to those for other lighting systems; however, more components generally need to be included with PV-powered luminaires than with traditional grid-powered luminaires. The main functions of a luminaire for a PV lighting system are to:
House some or all of the system components, i.e., PV panels, batteries, electronics, and light source
Control the light output from the light source so it is directed where it is needed to light a particular area effectively
Light output control is generally a function of the luminaire's optical components (i.e., reflector and lens). These components typically are the same for PV-powered luminaires as for grid-powered luminaires. The optical efficiency of a luminaire determines what portion of the light output from the light source can be delivered out of the luminaire. The higher the optical efficiency, the better; however, issues such as glare, light distribution, and illuminance uniformity must also be considered.
A major difference between PV-powered and grid-powered luminaires is the need to house additional components within or adjacent to PV-powered luminaires. Some of these components, such as PV panels and batteries, can be relatively large. In small PV-powered luminaires such as garden path lights, these components are generally incorporated directly into the luminaire itself. In larger luminaires such as parking lot and roadway luminaires, various components are generally attached to the pole or other structure that supports the luminaire.
The illustrations in Figure 6 represent the approximate size of PV lighting systems required to provide two different light levels on the ground beneath a pole-mounted luminaire: 10 lux or 100 moonlights and 0.5 lux (5 moonlights). This assumes a luminaire that has a single light source and an optical efficiency of 50%, which uniformly distributes all light output on a circular area with a radius equal to the pole height.
A system able to provide sufficient luminance to act as an indicator light, such as garden pathway luminaire, is also illustrated. Figure 6 provides a means to compare the relative size of the PV panel, mounting structure, and battery necessary for each of the three systems.
Figure 6. Illustration of three PV lighting systems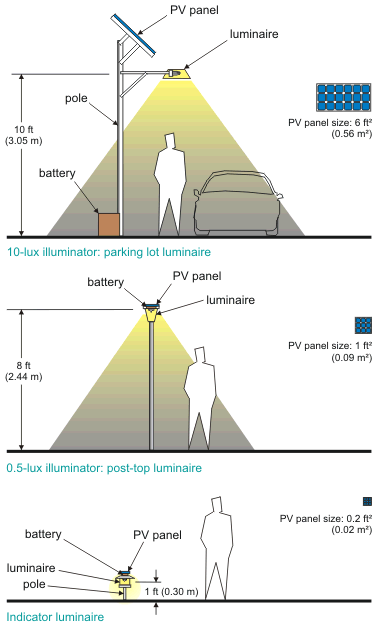 As seen in Figure 6, the PV panels required to power larger scale luminaires designed to provide 10 lux (100 moonlights) or more on the ground tend to be relatively large in comparison to the luminaire itself. This may present some aesthetic concerns, especially in applications where decorative luminaires are used or in historic areas, where the public expects luminaires with a traditional style. The mounting pole for larger scale PV lighting systems typically will need to be stronger to support the PV panel and handle the wind load on the system. Finally, a weather-tight compartment of some type will be needed to house the battery required by the system. All of these components add to the cost of the lighting system.
In comparison, the smaller-scale post-top luminaire designed to provide 0.5 lux (5 moonlights) on the ground is much more compact, and both the PV panel and battery are small enough to be incorporated directly into the design of the luminaire itself. Because of the small size of this luminaire, the mounting pole can also be smaller.
When low light levels such as 0.5 lux (5 moonlights) are considered, only light-emitting diodes (LED) and incandescent lamps are available in lumen packages small enough to provide these levels effectively. It is interesting to note that while respondents on the survey conducted by NLPIP felt that LEDs were suitable light sources for PV lighting systems, they did not consider incandescent lamps to be suitable (see "What are some common beliefs about PV lighting systems?"). This holds true in applications requiring high light-levels and/or using high-mounted luminaires because a large PV panel would be needed to meet the power requirements of the light sources, which would be expensive and cumbersome. However, in situations using lower mounting heights (8 ft [2.4 m] or less), where less than five moonlights are required, incandescent lamps become a viable option because they can provide the suitable lumen package to meet the required light levels at low mounting heights. However, LEDs are able to provide moonlight levels most efficiently over the widest range of mounting heights. This is because the light output provided by each individual LED light source can be very small, and can be easily adjusted by adding additional LEDs to a luminaire design to increase the light output when needed.
A final consideration when selecting a luminaire for a PV lighting system is electrical safety. This is similar to a grid-powered luminaire, and care should be taken that the luminaire and other PV lighting system components meet all applicable safety codes and standards.