What are some important characteristics of metal halide lamps? (cont'd)
Lumen maintenance
Figure 7 illustrates the rated and measured lumen output values for the medium wattage MH lamps from Table App-2 (located in Appendix); lumen maintenance values are presented in Table 3. The testing showed that the manufacturers' initial rated lumens agreed quite well with the measured values (+/- 5%). However, in the case of the pulse-start MH lamps from Manufacturer D there were marked discrepancies between the manufacturers' rated lumens at 40% of rated life and the measured lumens at 40% of rated lamp life. Based on these measurements, it is impossible to conclude that 250 W pulse-start is better than 250 W probe-start in terms of lumen maintenance. It should be remembered, however, that lumen maintenance values at 40% of lamp life differ in terms of the absolute hours of operation for the pulse-start and probe-start MH lamps; pulse-start lamps at 40% of rated lamp life are expected to provide 2000 more hours of light operation than probe-start lamps at 40% of rated lamp life.
Note: Specification LM-51-00 of the Illuminating Engineering Society of North America (IESNA) requires lumen output measurements to be obtained at the rated power of the lamp (i.e., 250 W). Therefore, the "efficacy maintenance percentages" will be identical to the lumen maintenance percentages presented in Table 3.
Figure 7: Comparison of lamp lumen output at 100 hours (h) of operation and at 40% of lamp life for 250 W pulse-start and
250 W probe-start MH lamps from Manufacturers C and D"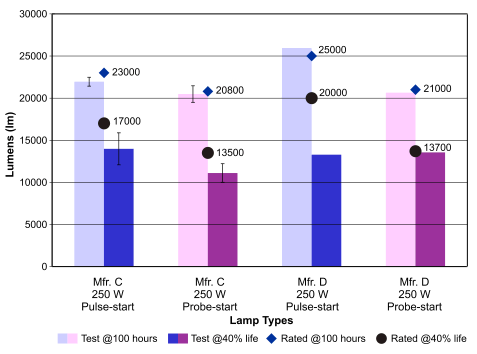 Table 3: Lumen maintenance at 40% of lamp life for 250 W MH lamps from Manufacturers C and D

---

Manufacturer
C
D

---

Lamp Type
Pulse Start
Probe Start
Pulse Start
Probe Start

---

Lamp Wattage (W)
250
250
250
250

---

Ballast Model Number
71A5793
78E5790
71A5793
78E5790

---

Lumen Maintenance
@40% Life
Rated
74%
65%
80%
65%

---

Measured
64%
54%
51%
66%

---
Based upon the results of the limited testing presented here, initial rated lumens are fairly accurately represented by manufacturers. At 40% of rated lamp life, however, rated lumens can be overestimated by some manufacturers. Finally, specifiers should remember that because rated lamp life is different for 250 watt probe-start and pulse-start MH lamps, the absolute number of useful hours of operation will differ even if lumen maintenance values are the same for the two technologies.
Manufacturers claim that pulse-start MH lamps have from 10 to 33% better lumen maintenance than probe-start MH lamps. This cannot be taken as a general statement, because, as shown by NLPIP testing, lumen maintenance depends to a great extent upon manufacturer and wattage.