What are some important characteristics of metal halide lamps? (cont'd)
Lumen maintenance
All lamps undergo some lumen depreciation, or decrease in light output, as a lamp is operated. The lower the light loss over time, the higher a lamp's lumen maintenance will be. High lumen maintenance is good because lamps can operate longer before needing to be replaced due to insufficient illumination for the application.
NLPIP undertook limited lumen maintenance testing of medium wattage (250 watt [W], 400 W, and 320 W) metal halide (MH) lamps. Color variations and color shifts among these lamps were also measured (see color variation and color shift section). Details of the testing protocols and the results are given in the Appendix. Figure 6 illustrates the rated and measured lumen output values for the high wattage MH lamps listed in Table App-1 (located in Appendix); relative lumen maintenance values are presented in Table 2. The manufacturers' initial rated lumens agreed fairly well with NLPIP's measured values (+/-6%). Manufacturer A's rated lumens at 40% of rated life agree quite closely with the measured lumens, both for the 400 W probe-start and the 320 W pulse-start MH lamps. However, the measured lumens emitted at 40% of rated life for the two types of MH lamps produced by Manufacturer B were substantially lower than the rated lumens for these two lamp types. In terms of lumen maintenance, based on the measurements, the relative loss in lumens was greater for the 400 W probe-start MH lamps than for the 320 W pulse-start MH lamps. At 40% of rated life both types of MH lamps produced essentially the same lumens, although there were marked differences between the two manufacturers in terms of absolute lumen maintenance, as previously noted.
Note: Illuminating Engineering Society of North America (IESNA) specification LM-51-00 requires lumen output measurements to be obtained at the rated power of the lamp (i.e., 400 W or 320 W). Therefore, the "efficacy maintenance percentages" will be identical to the lumen maintenance percentages presented in Table 2.
Figure 6: Comparison of lamp lumen output at 100 hours (h) of operation and at 40% of lamp life for 320 W pulse-start and
400 W probe-start MH lamps from Manufacturers A and B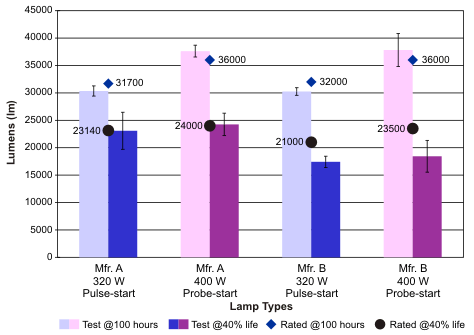 Table 2: Lumen maintenance at 40% of lamp life for 320 W and 400 W MH lamps from Manufacturers A and B

---

Manufacturer
A
B

---

Lamp Type
Pulse Start
Probe Start
Pulse Start
Probe Start

---

Rated Lamp Wattage (W)
320
400
320
400

---

Ballast Model Number
71A5892
78E6091
71A5892
78E6091

---

Lumen Maintenance
@40% Lamp Life
Rated
73%
67%
66%
65%

---

Measured
75%
65%
58%
49%

---