Abstract
This publication answers commonly asked questions about MR16 lamps. Lighting Answers: MR16 Lamps helps lighting professionals understand what MR16 lamps are and their most important performance characteristics. It explains the advantages and disadvantages of using MR16 lamps and the differences between MR16 lamps and other types of reflector lamps. It provides information about issues such as heat and quality differences between different types and grades of MR16 lamps. Finally, this publication provides pointers to lighting professionals on how to choose MR16 lamps for their applications.
Introduction
Figure 1-1. MR16 lamps used in retail applications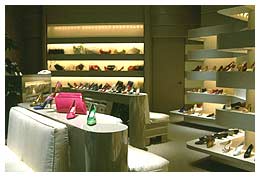 Source: Jan Moyer Design
MR16 lamps are halogen incandescent light sources, and because they are reflector lamps, they provide directional light. Originally used in slide projectors, these lamps are widely used for accent, task, and display lighting in architectural lighting applications such as in museums, art galleries, retail stores, residential settings, entertainment venues, and landscapes, as shown in Figures 1-1, 1-2, and 1-3. MR16 lamps are commonly used for displaying objects because of their higher color temperature than standard incandescent lamps, high color rendering index, and well-controlled, high-intensity beam. They are usually housed in track, recessed, or pendant luminaires for interior applications, and stake, surface-mounted, or below-grade luminaires for outdoor applications.
Figure 1-2. MR16 lamps used in landscape
Figure 1-3. MR16 lamps used in residential settings



Source: Jan Moyer Design




Source: Jan Moyer Design