What is the relationship between lamp efficacy and color rendering? - cont'd
The CRI, FSCI, and GA values of 55 light sources are plotted with their lamp efficacies in Figures 15a, 15b and 15c, respectively. The figures illustrate how the same light source can perform quite differently on these three color rendering metrics. In particular, the relative positions of the incandescent lamp and the specialty T12 fluorescent lamp, identified by green diamonds (

), change for each color rendering metric. The incandescent lamp is a general service, 60W, A-lamp; the specialty T12 fluorescent lamp is used to enhance the appearance of meat in a grocer's refrigerated case. The A-lamp has a high CRI value, while the CRI of the specialty T12 fluorescent lamp is low (Figure 15a). Conversely, the incandescent lamp has a low GA value, but the specialty T12 fluorescent lamp has a very high GA value (Figure 15c). They both have approximately the same FSCI value (Figure 15b).
Some light sources, designated by red diamonds (

) in Figures 15a, 15b, and 15c, provide high values for all three color rendering metrics. although these lamps may not be ideally suited for every application (such as enhancing the appearance of meat) they can be expected to render colors well for nearly any application because they rank high on all three metrics. It should also be noted that these sources have good lamp efficacy, so this family of light sources can provide good color rendering and high lamp efficacy.
Figure 15a. Comparing CRI to efficacy for several lamp types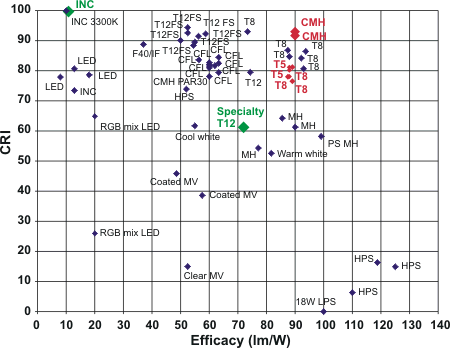 Figure 15b. Comparing FSCI to efficacy for several lamp types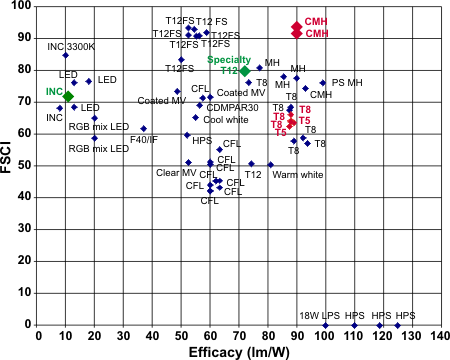 Figure 15c. Comparing GA to efficacy for several lamp types