What is the relationship between color rendering and light levels?
In general, both light level and lamp color rendering play crucial roles in color perception. At low light levels, good color rendering is difficult regardless of the light source used. At high light levels, nearly every light source will provide some level of color rendering (excluding monochromatic lights such as low-pressure sodium). Even a light source with very low color rendering values can perform better at high light levels than a light source with high color rendering values at low light levels.
For example, high-pressure sodium lamps score poorly on all three color rendering metrics (color rendering index (CRI), gamut area (GA) and full-spectrum color index (FSCI). However, they have very high luminous efficacy. In an application where lighting power loads must be kept low, this lamp type, which can provide higher illuminance levels with less power, may provide adequate color rendering. To produce enough light to enable good color rendering, other light sources might exceed the power restrictions.
Figure 16 shows color naming accuracy for objects viewed individually under different light sources and at different light levels. In the experiment, people were asked to name the color appearance of 20 color chips in terms of their primary and secondary hues. For example, when a person was shown a violet chip, a correct answer would have been "Blue is the primary hue; red is the secondary hue." The average percentage of correct responses for all 20 color chips is shown on the vertical axis in the figure for seven light sources at four light levels (blind chance is 25%). The black arrows show one example where an incandescent lamp with a CRI of 100 performs worse at 0.1 cd/m2 than a HPS lamp with a CRI of 22 at 10 cd/m2 (Deng et al. 2004). This example illustrates that at high enough light levels, even a light source with a very low CRI can render colors better than a lamp with a CRI of 100 can at lower light levels.
Figure 16. Color naming accuracy of light sources at different light levels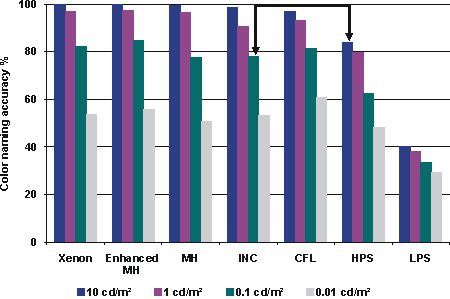 Source: Deng et al. 2004