How is the issue of light pollution currently being addressed?
A number of educational, research, and developmental efforts addressing light pollution are underway, including work to design lighting equipment that produces less light pollution; but the main efforts currently involve education and legislation.
In response to the demand to reduce light pollution, research and development efforts have focused on advancements in technology to design luminaires to efficiently direct light where it is needed. Luminaire manufacturers have concentrated on providing highly efficient luminaires with given beam distributions while meeting the cutoff classifications set forth by the Illuminating Engineering Society of North America (IESNA) to reduce glare as well as wasted light. Advancements in lamp technologies have resulted in producing high efficiency light sources that reduce light pollution and have the added benefit of saving energy.
In an effort to increase public awareness on the topic of quality outdoor lighting, the number of state, local, and regional lighting ordinances is growing. Many states have adopted legislation controlling outdoor lighting, more states have pending outdoor lighting bills in front of their legislators. Numerous adopted and pending local ordinances pertain to the lighting of cities, towns, and counties. Figure 8 shows which states have adopted or pending statewide legislation.
Legislation typically includes requirements for full cutoff luminaires, minimum light levels, lumen or wattage limitations, light source type limitations, controlled operating periods, curfews, and the elimination of certain kinds of lighting. (Curfews for outdoor lighting are generally defined by local planning authorities based on anticipated use of the area and, thus, a need for lighting. During pre-curfew times, the need for lighting is warranted, so lighting levels are generally higher than during post-curfew times.) In addition to preserving dark skies, legislation is being justified on the basis of minimizing wasted energy and money, reducing unwanted light on adjoining properties (such as light in bedroom windows), reducing glare, and preserving animal breeding and migration habitats.
Figure 8. Adopted and pending legislation governing light pollution in the United States, as of January 2003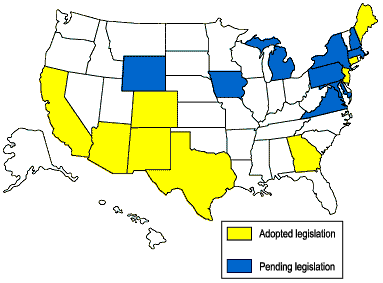 Luminaires are designed to have lighting distributions that are appropriate for specific applications. Virtually any luminaire can generate sky glow, light trespass, and glare if installed improperly or in the wrong application. These problems can be avoided by selecting luminaires that have the appropriate distribution for the application and installing them correctly to limit spill light and uplight.