How is glare controlled?
The cutoff classifications of the Illuminating Engineering Society of North America (IESNA) were developed to control glare. The IESNA full cutoff, cutoff, and semicutoff designations limit the intensity values in the glare zone. (See "What are the IESNA cutoff classifications?") The Institution of Lighting Engineers (ILE) has suggested limits for glare for the different environmental zones, as shown in Table 4. In the table, the source intensity applies to each source in the potentially obtrusive direction, outside of the area being lit.
Table 4. Limits on glare for different environmental zones
---

Environmental
zone
Source intensity (kilocandela)

---

Before curfew
After curfew

---

E1
0
0.0

---

E2
20
0.5

---

E3
30
1.0

---

E4
30
2.5

---
Source: ILE 2000
Glare and light trespass are of special concern when installing floodlights. The Commission Internationale de l'Eclairage (CIE) provides design guidelines on the siting and aiming of floodlights (CIE in press). One objective when the lighting is installed is to ensure that, to the extent practicable, direct view of the bright parts of the floodlights is prevented from positions of importance at eye-height on neighboring properties. Where possible, shielding should be considered. To determine the mounting height of luminaires, the CIE suggests the following considerations:
Higher mounting heights can often be more effective in controlling spill light, because floodlights with a more controlled light distribution (i.e., narrower beam) may be used, and the floodlights may be aimed in a more downward direction, making it easier to confine the light to the design area.
Lower mounting heights increase the spill light beyond the property boundaries. To illuminate the space satisfactorily, it is often necessary to use floodlights with a broader beam and to aim the floodlights in directions closer to the horizontal than would occur when using higher mounting heights.
Lower mounting heights make bright parts of the floodlights more visible from positions outside the property boundary, which can increase glare.
Figures 9 and 10 show how a higher mounting height compares to a lower mounting height for providing a given amount of light.
Figure 9. Floodlight at a higher mounting height with narrow beam angle, resulting in less spill light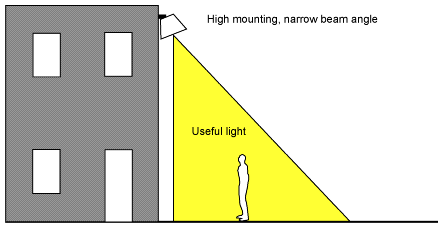 Figure 10. Floodlight at a lower mounting height with wider beam angle, resulting in more spill light