Are there color variations among LEDs?
There are generally small differences in color among LEDs when they are first manufactured, and then drifts in color as they are operated over the long term. With mixed-color systems to create white light, the initial color is probably more consistent, but without carefully designed compensation circuits to account for the different rates of lumen maintenance for the various colors used, the appearance of the light from a mixed-color array can drift noticeably from white. With phosphor-based white LED devices, small manufacturing differences in depositing the phosphor near the semiconducting element can alter the initial appearance of the resulting light; further, differences in the degradation rates of the phosphor and the emitter can also create variations in color through time.
Manufacturers work to bin LEDs to provide batches of products that will have similar initial appearance and lumen maintenance characteristics to maintain consistent appearance. Binning LEDs for small differences can increase their cost and the resulting cost of systems using them.
How large can color variations be for acceptable use?
At present there are no standards for how large color variations can be for acceptability. Research studies for different applications provide some guidance for those applications, but the acceptable tolerances for some applications will be different from those for other applications. For example, if a lighted scene contains many different colors, such as a retail grocery display (Figure 14), the tolerance for color variations among different locations in the display would be greater than if the location to be lighted were a plain, light-colored wall (Narendran et al. 2003b).
Figure 14. Retail grocery display.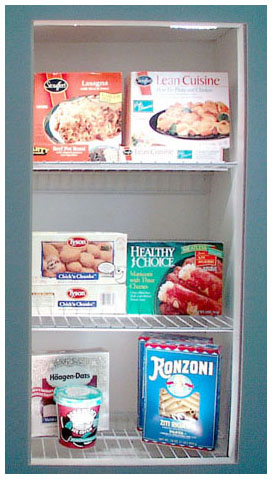 Small color variations in the illumination from one shelf to another in refrigerated display cases will be difficult to detect when the display contains colored packages as shown here.