What are the color properties of HW-CFLs?
High-wattage compact fluorescent lamps (HW-CFL) provide white light in a variety of correlated color temperatures (CCT) ranging from 2700 to 6500 kelvins (K). Most lamp manufacturers offer only one or two CCT options, rather than a wide range. Generally, the CCTs offered are high (cool color appearance) or low (warm color appearance).
HW-CFLs are commonly available with a color rendering index (CRI) of 80 or greater. CRI for these lamps is higher than for most high-pressure sodium (HPS), standard metal halide (MH), and mercury vapor (MV) lamps.
NLPIP measured the color properties of five HW-CFL samples. No single metric fully describes the color of light sources and how they render the color of other objects. Different metrics describe different aspects of color such as naturalness, discriminability, and saturation. Table 3 and Figures 6 and 7 show how the five samples compared in terms of efficacy and three color metrics: CRI, color gamut area (GA), and full spectrum color index (FSCI). In very general terms, a high CRI implies that colors will appear natural. A high FSCI implies that the light source will enable good color discrimination between small color variations. A large GA implies that color will be highly saturated. (For more information about these metrics, see NLPIP publication: Lighting Answers: Light Sources and Color.)
Figures 6 and 7 illustrate a method devised by NLPIP to represent values of CRI, FSCI, GA, and luminous efficacy for the five sample HW-CFLs tested. (For more information about this presentation technique, see NLPIP publication: Lighting Answers: Light Sources and Color.) For each group of similar CCT HW-CFLs, the three color rendering average metric values are shown as tri-color vectors, while the lamp efficacy value is shown as an achromatic (gray and black) vector. For comparison, the same diagram is provided for an incandescent, HPS, and MH lamp (Figure 8).
The testing revealed that samples A, C, and E had a high color temperature (5000-5500 K) and have similar color features (Figure 6). Samples B and D had a low color temperature (2700 K) and also have similar color metric features (Figure 7). Figure 7 shows that samples B and D have higher CRI, GA, and FSCI values than samples A, C, and E. As a result, these samples should make colors appear more natural, more saturated, and will enable better discrimination between small color variations.
Table 3. Color characteristics of five HW-CFL samples

---

Sample
Rated
CCT
(K)
Tested
CCT
(K)
Tested
Efficacy
(lm/w)
CRI
GA scaled
FSCI

---

A
5500
5007
61.1
90.0
89.4
72.8

---

B
2700
2630
73.4
83.0
43.7
39.4

---

C
5000
4892
68.1
83.5
84.9
68.2

---

D
2700
2713
61.7
81.1
46.2
43.7

---

E
5000
4729
68.3
81.0
84.3
69.2

---
Figure 6. Color characteristics of Samples A, C, and E (High CCT)
Figure 7. Color characteristics of Samples B and D (Low CCT)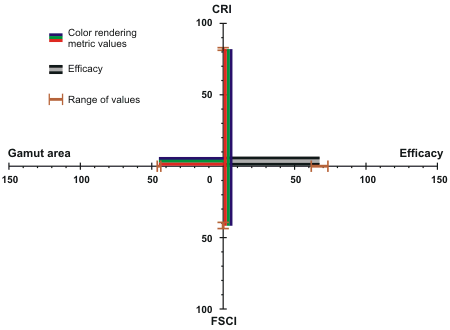 Figure 8. Color characteristics of three comparison light sources