What are the claimed and perceived advantages of plasma lighting systems?
Manufacturers claim that plasma lighting systems have longer life, higher efficacy, better lumen maintenance, improved color rendering, and enhanced dimming performance compared to conventional HID systems. In addition, manufacturers claim that plasma lighting systems have higher light output and lower overall system price than light-emitting diode (LED) systems while maintaining a small optical package and high system efficiency. Table 1 provides rated values of several performance metrics for comparisons of various light sources. The performance characteristics described in Table 1 include: rated life, efficacy, light output, color rendering index (CRI), correlated color temperature (CCT), warm-up time, restrike time, maximum rated dimming, and rated lumen depreciation. See the sidebar following the table for a discussion of some of the performance characteristics listed in Table 1.
Table 1. Rated light source characteristics for high pressure sodium (HPS) lamps, improved color HPS lamps, induction lighting systems, LED packages, low pressure sodium (LPS) lamps, metal halide (MH) lamps, mercury vapor (MV) lamps, and plasma lighting systems. HID lamps are tested with reference ballasts. Information not supplied indicated by NS.
HPS
Improved
color HPS
Induction
LED
package*
LPS
MH
MV
Plasma
Rated life
(1000s of
hours [h])
24-40
10-15
60-100
50-60
18
5-40
16-24+
3-50
Rated efficacy
(lm/W)
64-160
49-94
47-88
49-164
100-178
44-164
25-58
50-110
Rated light output
(lumens [lm])
5950-
140,000
3800-
37,400
3500-
36,000
50-8800
1800-
32,000
3000-
115,000
3850-
58,000
11,000-
50,000
Rated CRI
21-30
65-83
80
60-90
< 0
55-95
15-50
70-95
Rated CCT (K)
1900-
2100
2200-
2550
2700-
5000
2600-9000
1700
2900-
5000
3900-
5900
3200-
7650
Warm-up time
(minutes [min]
or seconds [s]
3-4 min
3-4 min
< 1 min
<< 1 s
7-15 min
2-5 min
5-7 min
< 1 min
Restrike time
1-3 min
1-3 min
< 1 s
<< 1 s
2-4 min
2-20 min
3-6 min
2 min
Rated dimming
(% Max
Power)
Down
to 35%
Down
to 50%
Down
to 50%
NS
Not
dimmable
Down
to 50%
Down
to 50%
NS
Rated dimming
(% Max
Light Output)
NS
NS
NS
Down
to 1%
Not
dimmable
NS
NS
Down
to 20%
Rated lumen
depreciation
(%)
9-21
8-20
23-40
30
10-30
16-52
6-30
22-30
*Typically, multiple LED packages are integrated into an LED luminaire. The performance characteristics of the LED luminaire will depend on the integration of the LED packages with other components such as the driver.
NLPIP conducted an online survey of lighting specifiers in September 2012 in order to assess their beliefs on the characteristics of plasma lighting systems. Specifiers who downloaded previous NLPIP publications were invited to participate. Manufacturers, manufacturer's representatives, and distributors were not included in the survey. The 304 survey participants provided information about the plasma lighting systems they had evaluated as well their opinions on the application of plasma lighting. Most of the survey respondents had heard of plasma lighting systems, but did not know how this technology compared to other light sources for high-bay and outdoor lighting applications (Figure 1). Of those who felt they knew enough to compare plasma lighting systems with their current lighting for these applications, plasma was perceived to be better for many characteristics, with the exceptions of electromagnetic compatibility, initial cost, controllability, dimming, and glare.
Figure 1. Responses to the survey question, "How do plasma lighting luminaires compare to your current luminaire choices for high-bay and outdoor lighting on the following performance characteristics?"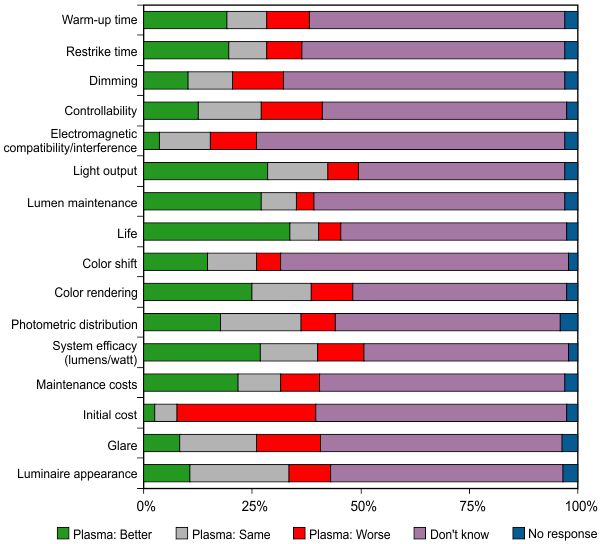 NLPIP also asked the specifiers to provide information regarding which HID lamps they would consider replacing with plasma lighting systems, shown in Figure 2. The specifiers indicated that they would consider replacing 400 watt (W) HID lamps with plasma lighting systems more than any other wattage. In the "Other" category, most specifiers responded "Don't know" along with three responses listing other wattages: 60 W, 175 W, and 200 W.
Figure 2. Responses to the question, "Which of the following wattage HID lamps would you consider replacing with plasma lighting (select as many as applicable)?"