What is the difference between probe-start and pulse-start lamps?
Traditional metal halide (MH) lamps use probe-start technology. Three electrodes are present in the arc tube of a probe-start MH lamp: a starting probe electrode and two operating electrodes (see Figure 2). To start the lamp, a discharge is created across a small gap between the starting probe electrode (also called the starter electrode) and the operating electrode. Electrons then jump across the arc tube to the other operating electrode to help start the lamp. Once the lamp is started, a bi-metal switch removes the starting probe electrode from the circuit.
Figure 2. Probe-start and pulse-start technologies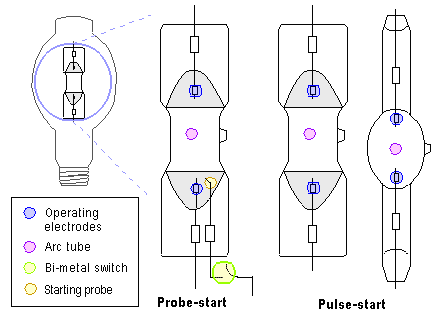 Each time a MH lamp is turned on, tungsten sputters from the electrodes. Over the lamp life, this tungsten can cause the arc tube wall to blacken, thus reducing performance of the lamp.
Pulse-start MH lamps do not have the starting probe electrode (Figure 2). Instead they have a high-voltage ignitor that works with the ballast to start the lamp using a series of high-voltage pulses (typically 3 to 5 kilovolts). Without the probe electrode, the amount of pinch (or seal) area at the end of the arc tube is reduced, which results in a reduced heat loss. Furthermore, using an ignitor with a lamp reduces the tungsten sputtering by heating up the electrodes faster during starting. Warm-up time is also reduced. Pulse-start technology was developed to increase lamp life and to have both the energy efficacies of high-pressure sodium (HPS) lamps and the desirable color characteristics of MH lamps.
Pulse-start technology is not new; it has been available in low-wattage MH systems for years. Manufacturers claim that pulse-start systems achieve the following:
Provide longer lamp life of up to 50% over traditional MH lamps.
Increase lumen maintenance by up to 33% (see the lumen maintenance section of "What are some important characteristics of MH lamps?").
Provide better cold starting capability-these lamp-ballast systems will start at temperatures as low as -40įC (-40įF)
Allow faster starting when cold, shorter warm-up times, and a faster restrike (re-start).
Table 1 compares the probe-start and pulse-start lamps and presents some of their important characteristics such as lamp life, initial light output, mean light output, ballast type, and color. Each lamp described in the table represents a category of products by that manufacturer, not single products. For the revision of this publication, NLPIP tested eight groups of six lamps each, representing four types of MH lamps. Comparisons were made between 320 W pulse-start and 400 W probe-start MH lamps, as well as between 250 W pulse-start and 250 W probe-start MH lamps.
(NOTE: Table 1 is available online as a separate PDF file by clicking the link below. If you obtained a printable PDF file of this report, Table 1 is at the end. )
Click here to view Table 1 "Characteristics of mid-wattage metal halide lamps."