What are some important characteristics of metal halide lamps? (cont'd)
Figure 14 shows how far the colors shift from 100 h to 40% of rated lamp life for the four groups of 250 W MH lamps. The height of each histogram bar in Figure 14 represents the average distance in color space that the chromaticities changed over the two test times for the six lamps in each group. Again assuming the four-step MacAdam ellipse represent a useful tolerance criterion for color shifts, all of the 250 W MH lamps shift by more than this criterion from 100 h to 40% of rated lamp life. Among the four groups, however, the pulse-start MH lamps from Manufacturer D show the smallest color shift.
Figure 14: Average color shifts for 250 W MH lamps from Manufacturers C and D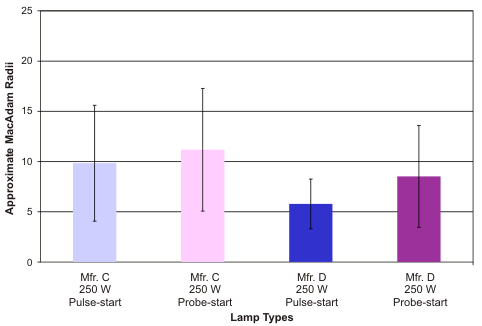 SOURCE: Adapted from Advance Transformer Co.
There appears to be no simple generalization about color shift over time when comparing the 250 W MH lamps (Figure 14) with the higher wattage MH lamps (See Figure 11).
Based upon the results of the limited testing presented here, color variations and color shifts of MH lamps are certainly issues for specifiers to consider. Unfortunately, it is difficult to make major generalizations about these attributes because color performance varies considerably among the different MH lamp wattages and manufacturers.