What are some important characteristics of metal halide lamps? (cont'd)
Lamp life
Mid-wattage MH lamps vary between 5,625 and 20,000+ hours (h) of rated lamp life, based on an operating cycle of 11 h on and 1 h off. A few are rated for more than 20,000 h. One manufacturer claims a lamp life of 30,000 h for its products provided the lamps run continuously. Generally, the probe-start MH lamps are on the lower end of this range (5,625 to 10,000 hours), while the pulse-start MH lamps are on the upper end of the range (12,000 to more than 20,000+ h), although a few probe-start MH lamps are rated for as much as 20,000 h (Figure 8).
Figure 8. Rated lamp life for probe-start and pulse-start technologies
(using CWA ballasts)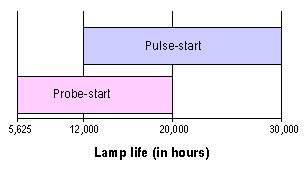 MH lamps should be relamped at or before the end of their rated lives. Operating them until they fail increases the likelihood of the arc tube rupturing, which would cause the bulb to explode. Also, if the bulb ruptures, it could potentially expose users to ultraviolet (UV) radiation.