What are MR16 lamps?
"MR" stands for multifaceted reflector, a pressed glass reflector with the inside (reflecting side) surface composed of facets and covered by a reflective coating. These facets provide optical control by gathering the light from the filament to create a concentrated beam of light. The reflectors of some MR lamps have a smooth inside surface instead of facets, but they are still called MR lamps by convention. Figure 2-1 shows MR16 lamps with different reflector types.
Figure 2-1. MR16 lamps with different reflector designs *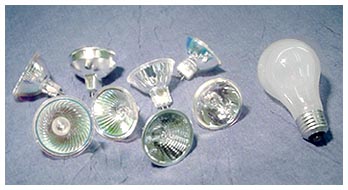 The light source of MR lamps is a single-ended quartz halogen filament capsule. The reflective coating of MR16 lamps can be either dichroic or aluminum. A dichroic coating is a thin, multi-layer dielectric (non-metallic film) that allows infrared radiation (heat) from the filament capsule to pass through the reflector while it reflects visible radiation (light) forward (see Figure 2-2). An aluminum coating is a thin film of aluminum that, unlike the dichroic coating, reflects both infrared and visible radiation. Some MR16 lamps have a cover glass on the front end of the reflector. This cover is a safety measure designed to contain any broken fragments in case the lamp shatters when it fails (see "What are the disadvantages of MR16 lamps?").
Figure 2-2. Schematic diagram of how a dichroic coating works

MR lamps come in different sizes. The size is determined by the maximum diameter of the lamp in eighth-of-an-inch increments (1 inch equals 2.5 centimeters). The most common MR lamp, the MR16, is 16 eighths of an inch or 2 inches (5 centimeters) in diameter at its largest circumference, hence the name "MR16." Other sizes include MR8 (1 inch, or 2.5 centimeters, diameter) and MR11 (1-3/8 inch, or 3.5 centimeters, diameter). The power ratings of MR16 lamps used in architectural lighting applications range from 10 to 100 watts.
Most MR16 lamps are operated using voltages lower than 120 volts, typically 12 volts. Some MR16 lamps, however, operate using 6 or 24 volts. A transformer is needed to reduce the line voltage from 120 or 277 volts to the appropriate level for these lamps. MR16 lamps can be dimmed through commercially available dimmers for low-voltage loads. Most low-voltage lamps have 2-pin bases. Other bases are the bayonet and turn and lock. A new generation of MR16 lamps with an integrated transformer has been developed and marketed in the last few years. These lamps operate on 120 volts and have a screwbase to fit medium-base (Edison) sockets. Figure 2-3 shows samples of commercially available MR16 lamps with different base types.
Figure 2-3. Different MR16 lamp base types

(a) 2-pin
(b) medium screwbase with integral transformer
(c) intermediate screwbase with integral transformer
(d) turn and lock
(e) bayonet