What do I need to know when specifying MR16 lamps?
MR16 lamps used in architectural lighting applications come in a variety of wattages and beam angles. MR16 lamp manufacturers such as EYE, GE, OSRAM SYLVANIA, Philips, and Ushio offer wattages that range between 10 and 100 watts and beam angles ranging from 7 to 60 degrees. Figure 5-1 shows the lighting effects produced by two lamps with different beam angles.
Figure 5-1. Different beam angles yield different beam spreads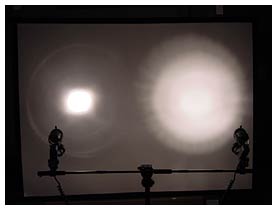 8-degree beam angle (left) vs. 40-degree beam angle (right)
Lighting professionals should understand the language used to identify MR16 lamps. Manufacturers usually have their own lamp codes, but there are standard lamp designations and beam angle nomenclature that make their identification easier.
Lamp designations:
MR16 lamps can be identified by a three-letter code created by the American National Standards Institute (ANSI). The three-letter code represents a specific type of lamp identified by its wattage, bulb shape, and beam angle. For example, "EXN" stands for 50 watts, MR16 lamp, 40 degrees or 50MR16/40°. Lighting professionals can specify MR16 lamps by their ANSI code or by their wattage, bulb shape, and beam angle interchangeably. Table 1-1 shows a partial list of ANSI three-letter designations and their abbreviated descriptive equivalent.
Table 1-1. ANSI designations for some MR16 lamps

---

ANSI Designation
Lamp Abbreviation*
(wattage MR16 / Beam Angle)

---

BAB
20MR16/40°
ESX
20MR16/10°
EXN
50MR16/40°
EXT
50MR16/15°
EXZ
50MR16/25°
FPA
65MR16/15°
FPB
65MR16/40°
FPC
65MR16/25°
EYC
75MR16/40°
EYF
75MR16/15°
EYJ
75MR16/25°

---

---
Beam angle nomenclature:
Beam angles are specified in two ways: by the number of degrees (for example, 40 degrees), or by nomenclature that describes the lighting effect produced by the reflector lamp. The National Electrical Manufacturers Association (NEMA) categorizes MR16 lamps as spot lamps or flood lamps. Some lamp manufacturers have created subcategories to better capture the ranges of beam angles. These subcategories are:
VNSP: Very narrow spot
NSP: Narrow spot
SP: Spot
NFL: Narrow flood
FL: Flood
WFL: Wide flood
VWFL: Very wide flood
Keep in mind that manufacturers may sometimes use these subcategories differently. Table 1-2 shows the differences between some lamp manufacturers. This table does not provide a comprehensive list of all products or manufacturers, but it shows examples of the beam angle nomenclature used by some lamp manufacturers. Lamp manufacturers such as EYE define beam angle as number of degrees only.
Table 1-2. Beam angle nomenclature from different lamp manufacturers

---

Beam Angle
(degrees)
GE
OSRAM SYLVANIA
Philips
Ushio

---

7
VNSP
*
*
*
8
*
NSP
SP
*
10
*
NSP
SP
*
12
*
*
*
Narrow
13
*
*
*
Narrow
15
NSP
*
*
*
20
SP
*
*
Medium
22
*
*
*
Medium
23
*
*
*
Medium
24
*
*
NFL
Medium
25
NFL
NFL
*
*
28
*
*
*
Medium
30
NFL
*
*
*
35
*
FL
*
*
36
*
*
FL
Wide
38
*
*
FL
Wide
39
*
*
*
Wide
40
FL
FL
*
*
55
WFL
*
*
*
60
*
VWFL
WFL
Super Wide

---

---