How are LEDs packaged into systems for lighting applications?
The evolution of traffic signals using LEDs (Conway and Bullough 1999) provides a useful illustration for the development of lighting products and systems using this light source (Figure 15). When devices producing greater amounts of light become available, products use them, bypassing design iterations using lower light output LEDs. Future development of LED lighting systems will likely follow similar trends in development.
Figure 15. Evolution of LED traffic signal products.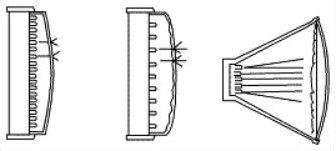 Early products used arrays of many LEDs (left); later products used fewer high-output LEDs with lenses to shape the resulting distribution (center); more recent devices use even fewer LEDs with yet higher output in combination with reflectors, diffusers and lenses (right).