What are the advantages and disadvantages of T5 systems versus T8 systems in lighting design?
The advantages of T5 lamps over T8 lamps can be summarized as follows:
The smaller size of T5 lamps allows for smaller luminaires.
The smaller lamp diameter of T5 lamps makes it easier to design optical systems that distribute light in the intended directions.
The higher light output of T5 high output (T5 HO) lamps may reduce the number of luminaires per project.
A disadvantage of T5 lamps, if they are inappropriately used, is glare. Glare can be prevented, though, by choosing luminaires that shield the light sources from view. Another measure to avoid glare is to decrease the visual size or solid angle of these light sources.
What luminaires are available for T5 lamps?
The smaller diameter of T5 lamps has increased the flexibility of luminaire design and allowed luminaire designers to develop stylish compact luminaires. Figure 18-1 shows examples of such luminaires.
Figure 18-1. Semi-Indirect Pendant Luminaire with One or Two T5 Lamps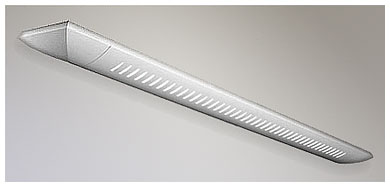 Source: Ledalite
Figure 18-2. Direct/Indirect Pendant Luminaire for Two T5 Lamps


Source: Zumtobel Staff