How can specifiers select appropriate light levels for dynamic outdoor lighting?
An important consideration for the implementation of dynamic outdoor lighting is the level of reduction relative to full light output. At present, there are few guidelines for identifying the appropriate light level when an area is usually unoccupied but may be occupied at any time. One approach is to rely on precedent. Some jurisdictions require that light levels be reduced by half during periods of less frequent use (for example, Fairfax County 2003). The basis for this level of reduction is not clear and may be related to the amount of dimming that is practical for HID light sources (see "What light sources can be used with dynamic outdoor lighting?").
A second approach to selecting the target light level is to base it on visual performance. For example, Rea and Ouellette (1991) developed the relative visual performance (RVP) method that estimates a person's ability to detect an object based upon its luminance, contrast, and size. Calculated levels of RVP are based on an arbitrary but high level of visual performance (reading black type on a white page under office lighting conditions). As an example, if there were a tripping hazard on a sidewalk or parking lot having the characteristics listed below, then a person's expected RVP as a function of illuminance is shown in Figure 5.
shape: cube, an arbitrary object shape
size: 3 inches (in) (7.5 centimeters [cm]) along each side, defined as a critical tripping hazard size (Zeller et al. 2006)
viewing distance: 10 feet (ft) (3 meters [m]), a typical distance ahead on the ground at which a pedestrian's attention might be focused while walking (Sammarco et al. 2010)
luminance contrast: 0.7, typical of a shadowed portion of a three-dimensional object
ground reflectance: 0.1, typical of asphalt (IES 1981)
age of observer: 60 years, the upper age limit of the RVP model (Rea and Ouellette 1991)


As shown in Figure 5, the calculated RVP values exhibit a plateau characteristic: below 0.2 footcandles (fc) (2 lux [lx]), RVP values drop precipitously, but above 0.2 fc (2 lx), further increases would provide little improvement in visual performance. Estimates of visibility such as those in Figure 5 might be useful in establishing a minimum illuminance of 0.2 fc (2 lx) as adequate for providing visibility "coverage" (Rea et al. 2010) in a particular location.
Figure 5. Relative visual performance for a tripping hazard as might be seen by a 60-year-old, as a function of horizontal illuminance (Rea and Ouellette 1991)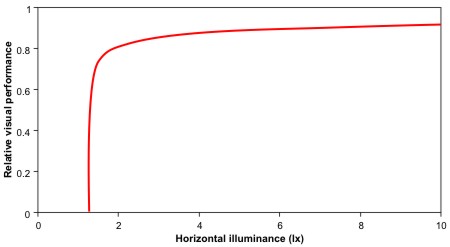 Another visual performance-based approach is to compare illuminances from electric lighting with those from moonlight. Lighting Answers: Photovoltaic Lighting (Zhou and Frering 2006) describes a unit of light called a "moonlight" that is equivalent to the typical illuminance produced by light from a full moon (0.01 fc [0.1 lx]). When electric street lighting systems were first developed and installed, for example, the lights might not have been switched on when a full moon was present (Hyde 1910) because electric light was thought to be redundant with the visibility benefits of full moonlight. Lighting of just a few moonlights (up to 0.05 fc [0.5 lx]) might be acceptable in applications where only basic visual orientation is required of occupants (Zhou and Frering 2006).

A third method of determining minimum illuminance levels is based on people's perceptions of safety and security from outdoor lighting, which can be quite different from an individual's level of visual performance under the same lighting. Figure 6 illustrates the results of people's perceptions of many different outdoor lighting installations in Albany, NY and New York City, NY (Leslie and Rodgers 1996; Boyce et al. 2000). Participants in those studies visited outdoor areas with various light levels and judged their agreement with the statement "This is an example of good security lighting." Although ratings of agreement tended to saturate for illuminances higher than 5 fc (50 lx), agreement was much lower at levels below 1 fc (10 lx). Lighting specifiers should be clear regarding their objectives in planning dynamic outdoor lighting; providing good visibility may result in different decisions about target light levels than providing perceptions of safety.



Figure 6. Average ratings of agreement with the statement "This is an example of good security lighting" by observers in Albany, NY and New York City, NY for outdoor areas illuminated to different light levels (Leslie and Rodgers 1996)