What are some dynamic outdoor lighting strategies?
Figure 4 illustrates light output profiles as a function of time for three outdoor lighting strategies. The white box in each example represents conventional outdoor lighting control using a photosensor or time clock. Adjusting the timing of these simple controls to turn lighting on slightly later and switch it off slightly earlier when ambient light still exceeds levels from outdoor lighting could result in 5% less energy use (Institution of Lighting Engineers 2006), which is illustrated by the blue line in Figure 4a. Most outdoor lighting installations that use photosensors to detect ambient light levels orient the photosensors upward. This strategy does not always accurately estimate the amount of light in an area, especially when there is snow cover or high ground surface reflectance (Hawkins and Hallmark 2007; BSREC 2007). Orienting photosensors downward could therefore provide greater energy savings, thereby reducing the height of the blue line in Figure 4a.
Figure 4. Relative light output for three examples of outdoor lighting strategies: a) a conventional photosensor- or timer-based strategy with modified on/off timing, b) a dynamic strategy with reduced light output during periods of expected low use, and c) a dynamic strategy with reduced light output during periods of vacancy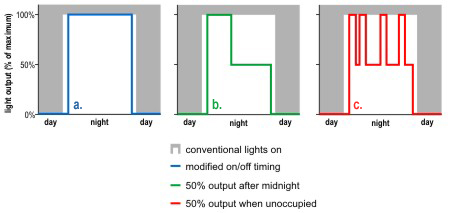 Light levels can also be reduced based on actual usage patterns, based either on data collected over a period of time (Hawkins and Hallmark 2007) or through real-time systems such as traffic monitoring sensors embedded in the roadway (Wilken et al. 2001) or by motion sensors. Dynamic control of outdoor lighting through motion sensor technology appears to be one that is growing in use and acceptance in recent years, especially along pedestrian walkways and in parking facilities (PIER Program 2008; CLTC 2009; Edwards 2010; MJB Technologies 2010). NLPIP noted that with these systems, motion sensors are used to control output from each individual luminaire. The red line in Figure 4c represents a strategy whereby light is maintained at 50%, but when motion is detected, light levels are increased to 100% for a period of time (for example, 30 minutes). Although not identified in the literature on dynamic outdoor lighting, several of the respondents to NLPIP's survey of lighting professionals suggested that temporarily increasing light levels for special events, emergencies, or other circumstances could be useful. This strategy, which is similar to that illustrated in Figure 4c, could require designing the capability to produce higher light levels from a lighting system, such as additional lamps and luminaires, which in turn would result in increased equipment costs.

Most light sources gradually reduce light output over their operating life (Rea 2000). Dynamic outdoor lighting strategies can be used to maintain a constant luminous flux from a luminaire, with the potential for modest energy savings, perhaps about 10% over the life of the system (Guo 2008). Controls can counteract lumen depreciation by gradually increasing power to maintain the desired light level (Ji and Wolsey 1994; BSREC 2007; E-Street 2008).