Will LED under-cabinet luminaires be cost effective?
Table 6 provides a calculation of the total cost of ownership of the under-cabinet luminaires using the following assumptions:
Duration of installation = 10 years
Cost of electricity = $0.1136/kWh (U.S. DOE)
Time of operation = 3 hours/day
LED luminaire life > 11,000 hours
Fluorescent lamp life = 7,500 hours
Xenon lamp life = 8,000 hours
Fluorescent lamp replacement cost = $4.80
Xenon lamp replacement cost = $3.60
Installation time for lamps that come with a plug (the LED and xenon models) = 0.5 hour
Installation time for lamps that come with a wire lead (the fluorescent models) = 1.0 hour
Installation labor rate = $56/ hour
For the purposes of this economic analysis, the lifetime of the LED luminaires was assumed to be 11,000 hours or greater, meaning that the initial luminaire would last for at least 10 years. (Testing the actual lifetime of the under-cabinet luminaires was beyond the scope of this project.) The lamp life and lamp replacement cost of the fluorescent and xenon models and the installation labor rate are the values used in ASSIST recommends Volume 2, Issue 1: A Homeowner's Guide to Residential Under-cabinet Lighting: Getting Good Lighting for Your Kitchen Counters. The installation times are estimates based on NLPIP's experience installing these models for testing. These calculations use a simple cost analysis and do not include adjustments for the time value of money or inflation.
Table 6. Under-cabinet luminaire cost of ownership over 10 years.
Light source
Brand
Model
Initial price ($)
Initial installation labor cost ($)
Cost of electricity ($)
Lamp replacement cost ($)
Total cost of ownership ($)
LED
GE
10408
55
28
7
0
90
GE
10409
65
28
8
0
101
Utilitech
283278
59
28
9
0
96
Utilitech
283520
25
28
1
0
54
Fluorescent
GE
10113
26
56
15
5
102
Utilitech
069486
17
56
19
5
96
Xenon (incandescent)
GE
10136
47
28
58
4
136
Utilitech
283542
35
28
77
4
143
The cost of ownership results are plotted in Figure 3 along with each luminaire's light output. The lower the cost of ownership, the better.
Figure 3. Cost of ownership over 10 years vs. light output
of under-cabinet luminaires.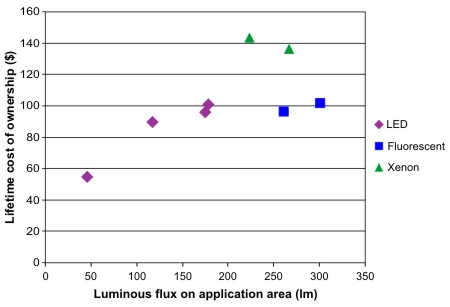 The luminaire with the lowest cost of ownership, the Utilitech 283520, provides less illumination than that recommended by McGuiness and Boyce (1984). The fluorescent luminaires have approximately the same cost of ownership as the other LED luminaires. However, the fluorescent models provide more light.
If the LED luminaires were to fail sooner than the assumed 11,000 hours of life, requiring that the entire luminaire be replaced, then their costs of ownership would be significantly higher than the fluorescent models and would approach those of the xenon models, which have high costs of ownership due to greater electricity use.