How is performance affected by ambient temperature? (cont'd)
Long-term thermal effects
Ballast life can also be affected by elevated ambient temperatures. Electronic components in ballasts tend to suffer under elevated temperatures. The life of electrolytic capacitors, for example, is reduced dramatically with elevated temperatures (Stevens, Shaffer, Vandenham 2002). An industry rule-of-thumb states that for every 10-degree increase in temperature, capacitor life is reduced by half.
Elevated temperature at the ballast of self-ballasted high-wattage compact fluorescent lamps (HW-CFLs) is caused primarily by higher lamp wattage, base-up orientation, and luminaire enclosure that limits the convective cooling of the ambient environment.
Self-ballasted HW-CFLs typically replace traditional MH or incandescent sources, which are often mounted in a base-up orientation. Heat generated by the HW-CFL will elevate the ballast temperature. Also, some luminaires in typical retrofit applications are totally enclosed, both above and below the lamp socket. As a result of base orientation and luminaire enclosure, components in the ballast of a self-ballasted HW-CFL may be exposed to elevated temperatures.
Manufacturers of self-ballasted HW-CFLs have acknowledged the risk of high ambient temperatures. One product has a warning label recommending avoidance of base-up orientation. Another product combats the overheating problem by integrating a small fan in the ballast, presumably to cool electronic ballast components. Most manufacturers recommend using these products only in open luminaires that allow some ventilation of the ballast, and many have established maximum temperature limits for their products.
NLPIP performed limited product testing to survey typical thermal conditions in open and enclosed high-bay or low-bay luminaires (see Appendix A: Thermal testing of HW-CFLs for testing methodology). Without the enclosure plate, temperatures ranged from 81-104°F (27-40°C); this is below temperature limits imposed by the manufacturers of HW-CFLs. However, temperatures in enclosed conditions approached and in some cases exceeded temperature limits, ranging from 127-154°F (53-68°C). In general, the higher the wattage of the HW-CFL, the higher the temperatures in the luminaire (Figure 15).
Figure 15. Temperature (at top of lamp, near the ballast) of lamp samples in several enclosure conditions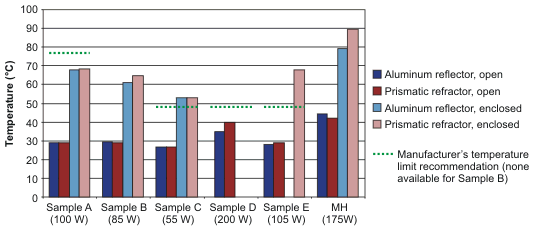 °F = (°C x 1.8) + 32
(Some data not available for samples D and E, due to lamp size)
Two of the lamps (samples D and E) were too large to fit in the test luminaire in one or both of the enclosed conditions. For several reasons, NLPIP assumes that they would have exceeded temperature limits in both enclosed conditions if they had fit. Sample E was shorter and lower in wattage than Sample D, but both had similar product designs.
Without the enclosure plate, Sample D produced higher temperatures than sample E (due to higher wattage). Because Sample E exceeded thermal limits when enclosed, NLPIP infers that Sample D would have exceeded its temperature limit as well.
Sample E did fit within an enclosed prismatic refractor. In this condition, Sample E exceeded its temperature limit. For the other lamp samples, enclosure with the specular aluminum reflector generated similar temperatures compared to enclosure with the prismatic refractor. NLPIP assumes that this Sample E would therefore have exceeded temperature limits in the specular reflector as well.
Before retrofitting with HW-CFLs, readers are encouraged to check lamp manufacturers' recommended thermal conditions.