Ceiling- and Wall-Mounted Luminaires
The RE730, RE827, and RE830 fluorescent lamps that work in architectural and recessed luminaires can be used in ceiling- and wall-mounted luminaires.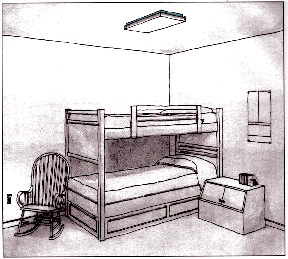 Bedroom with a ceiling-mounted luminaire containing linear fluorescent lamps.
Luminaires containing linear, long twin-tube, or circline fluorescent lamps are ideal for kitchens, playrooms, home offices, and utility rooms.
Screwbase capsule or screwbase globe compact fluorescent lamps fit many simple ceiling-mounted luminaires and porcelain sockets. For example, a capsule compact fluorescent lamp in a porcelain socket is a good choice for a basement or utility room if the light is left on for long periods of time.
Hallway with wall sconces designed for compact fluorescent lamps and night light.
Select wall sconces that are designed solely for compact fluorescent lamps for hallways, bedrooms, and living rooms, and in rooms with low ceilings.
In bathrooms, luminaires positioned vertically at the sides of the mirror and above light-colored counters provide the best visibility to the underside of the chin. Linear or long twin-tube fluorescent lamps work especially well in the bathroom in separate luminaires or built into vanity mirrors or medicine cabinets.
Compact fluorescent globe lamps substitute for the incandescent Hollywood lights popular with home owners. When a home owner insists on vanity lights above the mirror, the luminaires should be 6 feet 6 inches above the floor.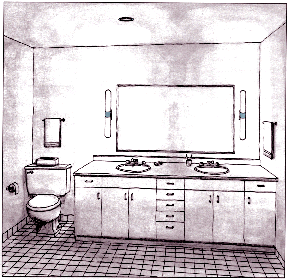 Bathroom with wall-mounted luminaires containing long lwin-tube fluorescent lamps
Incandescent track lighting should be used only where flexibility or accent lighting is important. If the track heads do not have a built-in reflector, use halogen reflector lamps.
Position track heads so lamps are not visible from usual seated or standing positions.
Wall-mounted luminaires less than 6 feet 8 inches from the floor should not protrude more than 4 inches from the wall.
Installing junction boxes at least 5 feet 9 inches above the floor allows wall sconces to be positioned high enough so that people don't bump into them.
When you purchase a luminaire, look for the "ENERGY STAR" label.