Baffles, Louvers, and Diffusers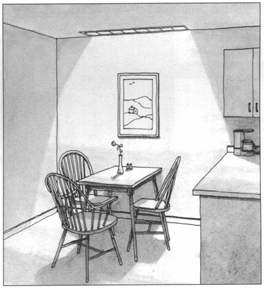 Architectural luminaires can often be left open above and below the shielding board. Baffles, louvers, and diffusers can eliminate most direct views of the lamps from normal viewing positions and landings overlooking the room. Baffles are parallel blades that come in different sizes, finishes, and blade heights and spacings. One-inch-high white blades separated by a 1² space are usually appropriate. Baffles are manufactured 6² to 10² wide and 4´ long.
Louvers, or egg crates, usually have cell sizes of 1/2²¥1/2²¥1/2² and are cut to fit from a 2´¥4´ sheet by the contractor. Polystyrene yellows, so acrylic and painted metal make better louvers. Louvers are finished in white, silver, and g.
Diffusers completely eliminate all views of the lamp, but they reduce the light output from the luminaires more than louvers and baffles do. Builders cut diffusers from acrylic, K-12 prismatic lenses. Diffusers work best when installed prism-side out or when made of a matte-finish, acrylic opal.

Diffusers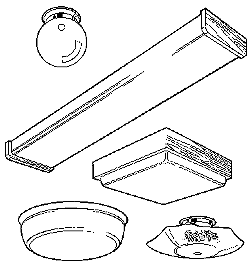 Dinette with baffled recessed troffer luminaire containing linear flourescent lamps.