Researching how light can be used to promote health and wellbeing
Biological rhythms that repeat approximately every 24 hours are called circadian rhythms. Light is the main stimulus that helps the circadian clock, and thus circadian rhythms, keep a synchronized rhythm with the 24-hour day. If lack of synchrony or circadian disruption occurs, we may experience decrements in physiological functions, neurobehavioral performance, and sleep. Lighting characteristics that are effective to the circadian system are different than those effective to the visual system. In order to apply light to mitigate symptoms of Alzheimer's disease, depression, jet lag, or sleep deprivation, we need a better understanding of the quantity, spectrum, timing, duration, and distribution of light that is effective for the circadian system.
---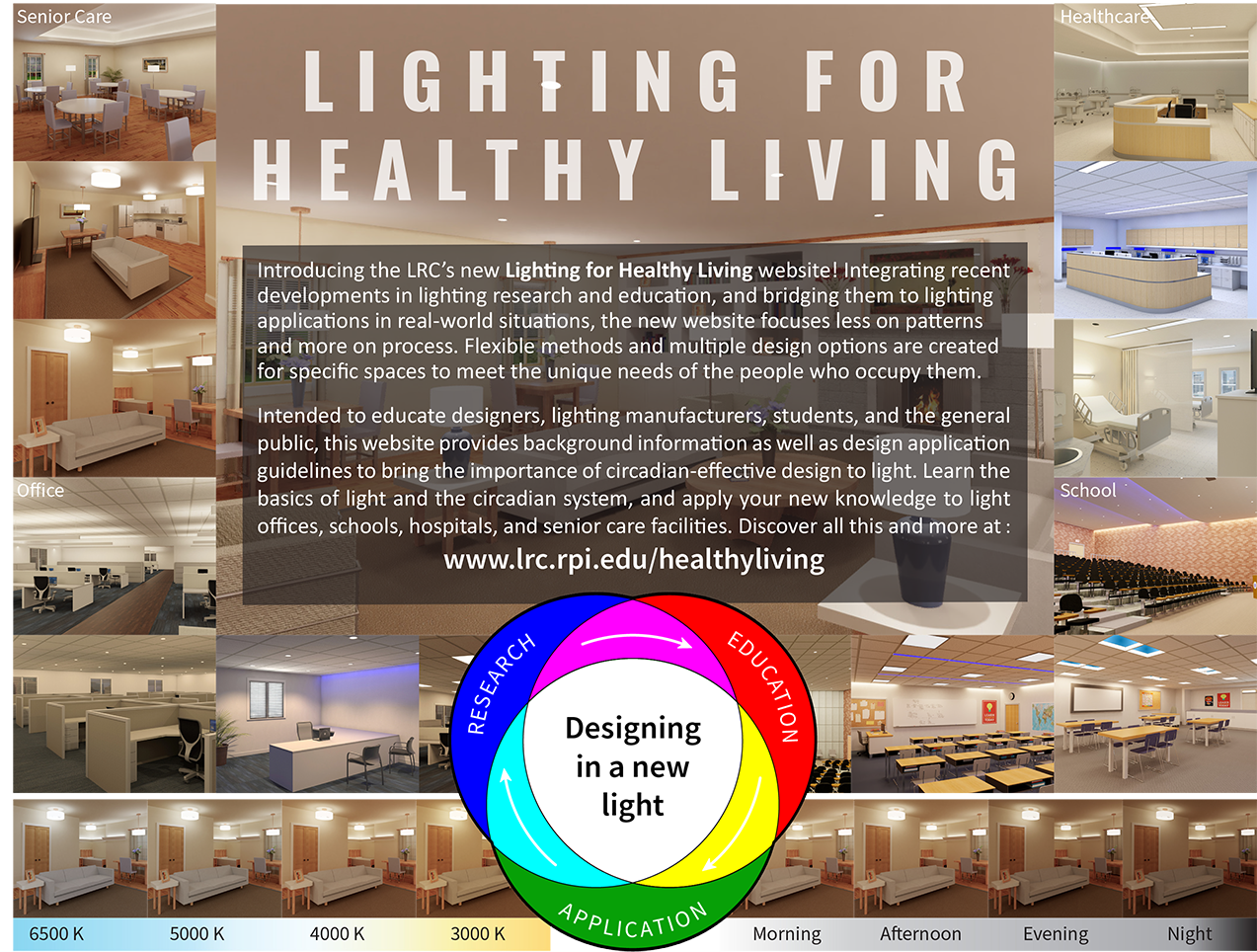 ---
New Video: Sleep Better & Feel Better While Working From Home
The LRC has released a new video on how to maintain good sleep while working from home, or quarantining indoors, which is becoming more commonplace during the coronavirus pandemic. Good sleep is essential for good health, and may even have a protective effect against coronavirus because a healthy, regular sleep pattern promotes a strong immune system. The video features tips from LRC Director Dr. Mariana Figueiro about how to use the power of light to help you sleep better and feel better every day. Watch the Video!
---
Light and Health Video Series Now Available
Sponsored by the Light and Health Alliance and the National Institute for Occupational Safety and Health (NIOSH), Grant 1R01OH010668, the LRC has released a series of short videos on the science of lighting for human health. There are nine videos, with a total run time of just over 30 minutes. The titles are: (1) Circadian rhythms; (2) Circadian stimulus; (3) How to use the LRC's CS calculator; (4) Delivery and control of circadian stimulus; (5) Lighting for older adults; (6) Lighting for shift workers; (7) Lighting for adolescents; (8) Lighting for office workers; (9) Future directions in lighting for health. Visit YouTube to View the Video Series
---
Circadian stimulus calculator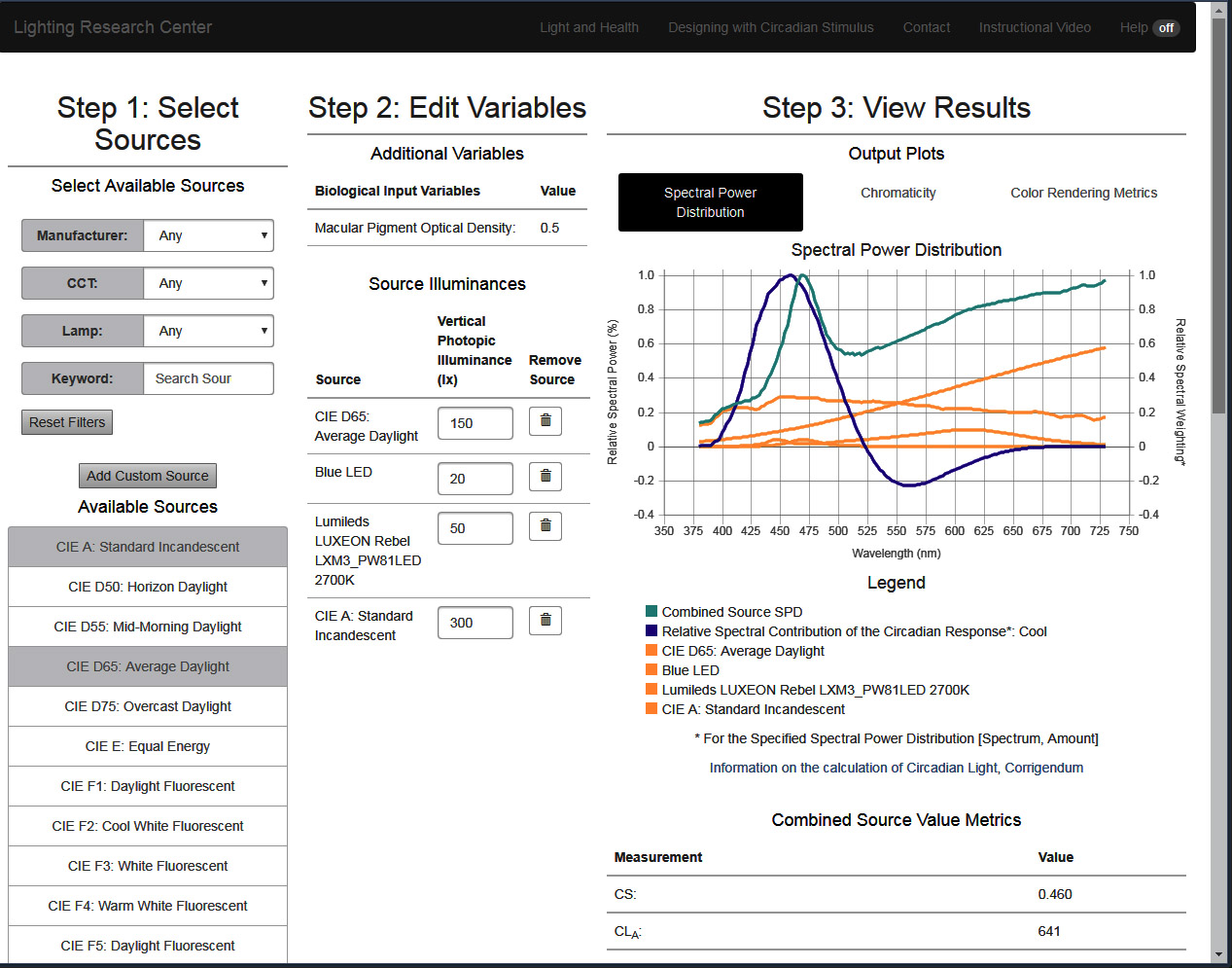 The LRC has released a web-based version of its CS calculator with more robust and flexible functionality to help lighting professionals select light sources and light levels that will increase the potential for circadian-effective light exposure in architectural spaces. This calculator provides additional functionality not included in earlier versions. (Release date: March 12, 2018)
Download Excel-based Calculator for off-line use. [Multiple Light Sources] Compatible with Mac and Microsoft Excel 2010 or later. Clicking this link will directly download a Microsoft Excel file to your computer or other device. Users should click "Enable Macros" upon opening the file. (Updated 10/3/2017.)
---
Circadian stimulus look-up charts
These look-up charts provide a quick and easy way to estimate the potential average CS value in a space using conventional lighting metrics.
---
LD+A Article "Designing with Circadian Stimulus"
This article provides a basic introduction to designing with the CS metric. In the article, LRC researchers explain the metric and present useful tips to help designers create lighting plans that deliver prescribed amounts of CS. The article is available here.