Steinway & Sons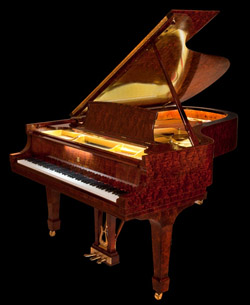 All photos courtesy of Steinway & Sons
Steinway & Sons deals in superlatives. It is where the rarest, most beautiful, most acoustically superior, hand-crafted instruments have been built for over 150 years. Just as light touches everything, designing with light knows no barriers. With that in mind, Steinway had a thought to introduce a new feature into their already unique instruments — perhaps they could accent their artistry using discrete, new technologies in lighting.
Steinway & Sons approached LRC DesignWorks for technical consultation on the lighting of a model B Grand 'Concept' Piano to be unveiled at a Chicago exhibit in the fall of 2010. If a client expressed interest, the piano would be customized to include the lighting.
LRC DesignWorks' tasks were to make recommendations for low profile lighting equipment to illuminate:
the interior walls that outline this piano, to be made of rare Kewazinga Bubinga wood;
the sound holes and soundboard;
and the Steinway & Sons logo on the fallboard.
The challenge was to design a cordless, battery-powered system, as there could be no visible wires if the piano was to be on display without access to electricity.
Because of recent research and advances in technology objects can be accented objects as never before; the world of solid-state lighting, specifically light-emitting diodes (LEDs), allows lighting to reach the smallest of spaces, render colors and rich wood tones well—all while resisting vibration and minimizing heat radiation.
The beautiful pianos of Steinway & Sons may lead the way in the elegant pairing of music and light.