Sea Ranch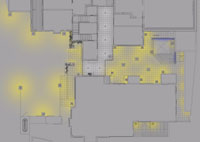 Lighting Design for the Ultimate Performance Home at Sea Ranch, California
Background:
In the fall of 2006, a select group of LRC graduate students was asked to design the lighting for an exemplary home/office complex at The Sea Ranch development in Sonoma, California. Their charge was to create energy-efficient lighting solutions for a universal design home for a client they would never meet — all communication was by teleconference or email. (Universal design aims to be inclusive of as many people as possible, regardless of age or physical or sensory abilities.)
Challenge:
In addition to the LRC graduate students, the design team included the owner/client, architect, lighting consultant, interior designer, and biophilic designer. The challenge was unique in that the home was to be sustainable, incorporate leading edge technology, and accommodate both a family and a work environment.
Design Objectives:
Design a place that will promote:
aging-in-place
comfort for people of diverse physical and sensory abilities
sustainability
energy-efficiency
Utilize the best of today's products and building methods to demonstrate how they can make life:
safer
more comfortable
more enjoyable
friendlier to the environment
Use scientific knowledge to produce a structure that will use less energy as well as:
generate energy
be quieter
be more comfortable
mesh with its natural surroundings
Sample Solution:
For outdoor areas, a portable bollard was designed made of copper and using LEDs as a light source. It can operate on solar power or be re-charged electrically, and can adapt to table top, wall mount or post top applications. Indoors, the warm natural woods are enhanced by low voltage uplighting and compact fluorescent lamps concealed in an art glass chandelier. Other areas throughout the interior make use of LEDs and linear fluorescent luminaires to comply with Title 24 requirements.
An article called the Lighting Design Process, written by the students, appeared in March/April 2007 issue of Ultimate Home Design magazine.