Hedley Park Place Lighting
Hedley District Master Plan
First Columbia, LLC approached DesignWorks to develop a lighting master plan for the proposed Hedley District, a twenty-five square block waterfront area along the Hudson River in Troy, N.Y. The project includes several design elements integrated through a hierarchy of lighting that draws on both color and brightness and will evolve over the course of several years.
Phase I: Hedley Park Place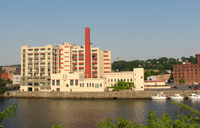 The lighting of Hedley Park Place is part of the first phase in Troy, N.Y.'s waterfront revival. The design team bridged the rich history of Troy's past with the brilliance of its future as the force behind the design concept—Fire and Ice.
Objectives
Establish Hedley Park Place as the anchor from which the Hedley District will radiate.
Position Hedley Park Place as a welcoming beacon both to those who visit, and to those who live in Troy.
Create a fiery glow on the massive Hedley smokestack to represent the persistent chug of a factory in motion, a factory that epitomized the industrial spirit of America on its rise to greatness.
Contrast the fire of the industrial age with the ice of the technology age through use of bold, complementary colors.
Garner interest and project a sense of movement by slowly transitioning colors.