Emma Willard School
Background: A Spirit Shines Through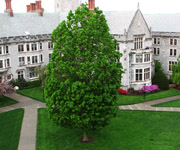 Emma Willard School — its students, faculty, staff and surrounds — embodies the spirit, pride, and love of learning set forth in 1846 by its founder, Emma Willard, a pioneer and visionary for women and education.
Challenge: Less is More
Create a welcoming approach at the new student drop-off oval
Respect the power limitations of the existing electrical system
Enhance historic stone buildings without mounting directly to their structures
Plan for expansion of lighting in future phases
Work within a modest budget
Solution: Enhancing the Stone
In the midst of a 10 year renovation project, Emma Willard School commissioned the LRC to design the lighting for the new approach and entry to the school. Emma Willard School embodies the architecture of a not-too-distant time, as well as the spirit and strength of the women and educators committed to the school's success and progression for more than a century. The resulting lighting design is meant to reflect that spirit and strength. Lighting the distinct yet cohesive structures that constitute the campus was based on their rhythm, symmetry and hierarchy.
The design will allow implementation in three successive future phases, with key elements of the entire composition included in each phase. Care was taken to minimize the amount of light and the quantity of fixtures while accenting some of the more significant architectural elements.