Reports & Publications - Design Guidelines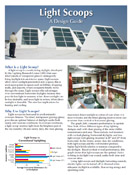 Light Scoops: A Design Guide
— (2013): This guide provides information on the design of a light scoop – an innovative type of skylight that increases daylight in the winter relative to summer. The guide includes a performance comparison of light scoops vs. other conventional skylights. The guide demonstrates how to design the light scoops to meet target light levels. This publication includes a case study evaluating the performance of fourteen light scoops installed at a corporate headquarters in central New York State. Researchers administered a questionnaire to determine whether the sun penetration is acceptable to occupants in this lobby. Site measurements were also included to confirm that the light scoops functioned as designed.
Patterns to Daylight Schools for People and Sustainability
— (2010): This pattern book by LRC authors, sponsored by the US Green Building Council, presents model designs for implementing daylighting into school classrooms, corridors, and gymnasiums. With emphasis on human health impact and other daylight metrics, this book compares cost, comfort, visual environment, and energy use among well-known daylighting techniques.
How Much Energy Do Sidelighting Strategies Save?
— (2006): Windows can introduce considerable heat gains and losses that may offset the benefits of electric light energy savings and cause an increase in yearly net energy use. The use of shading devices is necessary to prevent overheating and to provide a glare-free visual environment. The most common shading devices that have been in use in buildings are exterior overhangs, interior blinds and roller shades. This study examines the impacts of these devices on the total yearly energy loads of a building.
How Much Energy do Different Toplighting Strategies Save?
— (2005): Final report on the study of skylight strategies and glazing types on the total yearly energy loads.
Guide for Daylighting Schools
— (2004): A comprehensive brochure addressing key design considerations for using daylighting in schools.