What are the application issues related to PV lighting systems?
Installation

Installing a solar yard light is not necessarily difficult; however, installing a large-scale photovoltaic (PV) lighting system such as a 40-watt solar street luminaire with 12 square feet of PV panels is not a simple task. A survey of PV installations conducted in 2002 showed that 50% of PV systems (stand-alone, interconnected, hybrid, and multi-mode) in the U.S. were installed improperly. This resulted in deficiencies in safety, durability, and/or performance (Wiles et al. 2002). Stand-alone PV systems are more technically complex than electric grid-connected systems (DOE 2003).
In order to avoid installation problems associated with PV lighting systems, it is important to work with trained and experienced PV designers and installers, and to use well-established PV module technology and reliable equipment, while following the best available information and codes such as the National Electrical Code (NEC).
System integration

All components of PV lighting systems need to be well designed and matched to provide satisfactory system performance. If system components are not well matched, the system will likely be inefficient and the life of the components will be compromised. An automobile battery, for example, is a poor choice for a PV lighting system. An automobile battery is designed to supply high current for a short duration. Taking too much energy out of this type of battery before recharging it is likely to damage the internal components. A PV lighting system will repeatedly remove large amounts of a battery's energy capacity. Therefore, a specialized type of battery, called a deep discharge battery, is better suited to a PV lighting system.
If a PV lighting system uses a fluorescent or high intensity discharge (HID) lamp, a dc ballast may be used to replace two components: the dc-ac inverter and the ac ballast. This will improve the overall efficiency of the PV system, if the efficiency of the dc ballast is higher than the efficiency of the combination of the other two components. However, few dc ballasts exist for these light sources. For light-emitting diode (LED) lamps, a dc driver (current regulator) is a better choice than the combination of a dc-ac inverter and an ac driver. The dc driver for LED lamps in PV lighting systems is sometimes considered unnecessary because the output voltage from PV panels can be designed to match the required driving voltage of the LED lamps. However, it is normally poor practice not to use a dc driver, since unexpected changes in the circuit condition such as voltage or current fluctuations are likely to occur.
Maintenance

PV panels degrade over time, and the cover glass may collect dirt. Although panels are becoming more robust, a study in 2000 warned that PV modules may delaminate due to oxidization, thus resulting in reduced efficiency, and the cover glass could crack due to hail damage or thermal cycling (Quintana et al. 2000). Exposure to atmospheric oxygen, high current density, and elevated temperatures contribute to solar cell degradation (Riesen and Bett 2005). High aluminum content of PV modules also contributes to degradation. Many types of solar cells need high aluminum content in the window layer to ensure transparency, but layers with high aluminum content are prone to oxidation. Layers with lower aluminum content tend to be more stable (Riesen and Bett 2005). Moisture can also cause damage in thin-film PV modules, including material delamination and electrochemical corrosion (Mon et al. 1988).
Batteries also degrade over time. After eight years, battery capacities typically drop to just three to 50% of their initial value (Diaz and Egido 2003). Also, a battery's capacity decreases under lower ambient temperature. For example, a battery's capacity may drop 25% when the ambient temperature drops from 25° to 0° C (Sandia National Laboratories 1995).
Aesthetics

PV lighting sometimes causes aesthetic concerns. The PV panel is usually large compared to the luminaire itself, and may be considered an eyesore by some people. A designer for a PV lighting system should integrate the PV panel into the architectural and environmental surroundings as much as possible. This will help to avoid objections from people who live in the area where the system is being installed. With low-power PV lighting systems, the size of PV panel should be small, and aesthetics may not be as much of a concern because it can be more easily incorporated into the luminaire and/or its supporting structure. Figure 10 shows an example of PV-powered luminaires along a pedestrian pathway located alongside a public street.


Figure 10. PV-powered luminaires used to illuminate a pathway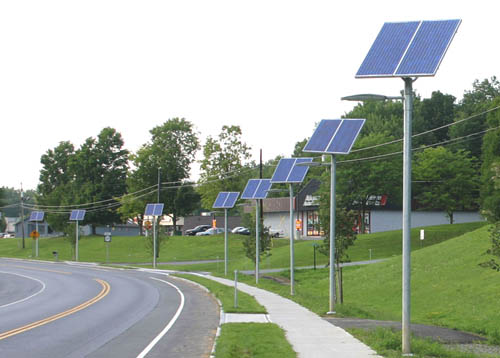 Conversely, the use of a PV lighting system may illustrate that the system's owner is sensitive to the environment and is interested in the use of "cutting-edge," environmentally sustainable technology. In this case the PV panels may be viewed as a positive feature of the luminaire, which the owner may wish to showcase. However, it is still a good idea to try to integrate the PV panel into the design of the luminaire or mounting structure in a way that is visually pleasing and structurally sound.s