How do PV panels or PV cells work?
When light hits a surface, it may be reflected, transmitted, or absorbed. Absorption of light is simply the conversion of the energy contained in the incident photon to some other form of energy. Typically, this energy is in the form of heat; however, some absorbing materials such as photovoltaic (PV) cells convert the incident photons into electrical energy (Messenger and Ventre 2004). A PV panel has one or more PV modules, which consist of connected PV cells. Figure 3 shows the schematic structure and operation of a PV cell.
Figure 3. PV cell structure and operation schematic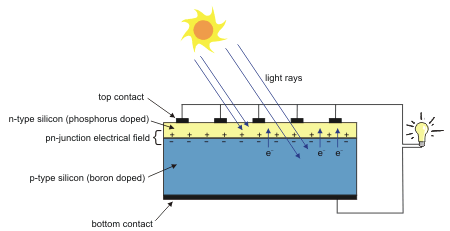 Typically, a silicon PV cell contains two layers. The top layer consists of a thin sheet of phosphorus-doped (negatively charged or n-type) silicon. Underneath this sheet is a thicker layer of boron-doped (positively charged or p-type) silicon. A unique characteristic of these two layers is that a positive-negative (pn) junction is created when these two materials are in contact. A pn junction is actually an electric field that is capable of creating an electrical potential when sunlight shines on the PV cell. When sunlight hits the PV cell, some of the electrons in the p-type silicon layer will be stimulated to move across the pn junction to the n-type silicon layer, causing the p-type layer to have a higher voltage potential than the n-type layer. This creates an electric current flow when the PV cell is connected to a load. The voltage potential created by a typical silicon PV cell is about 0.5 to 0.6 volts dc under open-circuit, no-load conditions. The power of a PV cell depends on the intensity of the solar radiation, the surface area of the PV cell, and its overall efficiency (FSEC 2005).
The efficiency of each individual PV cell directly determines the efficiency of the PV panel. PV cells can be categorized into different types according to their component materials and structural features. Efficiency of commercially available PV panels is typically 7-17% (Green et al. 2005).