What problems are attributed to halogen torchieres?
Three-hundred-watt halogen lamps reach operating temperatures high enough to ignite paper, cloth, wood, or plastic that is tossed into, blown into, or draped over the lamp. In some cases, fires have started when torchieres have fallen over and touched carpet, drapes, or bedding. NLPIP measured temperatures in torchieres containing halogen, fluorescent, incandescent, and metal halide lamps, as shown in "How hot are the torchieres?".
Ecos Consulting examined data from the United States (U.S.) Consumer Product Safety Commission (CPSC), insurance companies, law firms, and newspapers. By August 1999, Ecos attributed 350 fires to halogen torchieres, resulting in 30 deaths, 114 injuries, and $2 million in damage (LightSite 1999). As a result of potential fire hazard, halogen torchieres have been banned in dormitories by two-thirds of the colleges and universities in the U.S. (Calwell et al. 1998).
In 1996, Underwriters Laboratories (UL) withdrew its listing for halogen torchieres with 500-W lamps to reduce the risk of fire. They urged consumers to replace 500-watt (W) lamps with 300-W lamps. UL also tightened its safety requirements for halogen torchieres in 1997 and again in June 1999 (Underwriters Laboratories 1999). See "New UL Requirements" for examples of the new safety requirements.
When tubular halogen lamps fail, they sometimes explode or shatter. Careful handling is required because oils from the skin make the lamps susceptible to shattering while operating. For this reason, a tempered glass "shatter shield" is required in halogen torchieres to enclose any fragments of hot quartz glass that can scatter on nearby combustibles. This shield closely covers the lamp and offers very little heat protection. The shatter shield should be reinstalled every time the lamp is replaced. Unfortunately, some consumers disregard this precaution.
In addition, halogen lamps might not provide the energy savings that are sometimes advertised for them. Although some halogen lamps provide 18-20 lumens per watt (LPW), Siminovitch and Page (1997) found that the average imported halogen lamp produced less than 12 LPW--40% less than a 100-W A-lamp.
Dimming further reduces the efficacy of halogen lamps to as low as 2 LPW. Figure 3 illustrates that a halogen lamp dimmed to 50% of maximum light output still requires 73% of the active power it requires at 100% output. Another way to consider dimming efficacy is that when active power is reduced to 50%, the lamp produces only 20% of its maximum light output.
Figure 3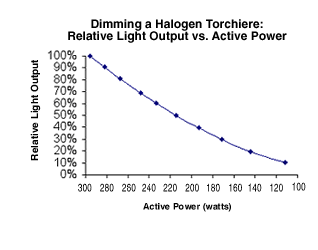 Although halogen torchieres are inexpensive to buy, operating cost makes them more expensive overall than most energy-efficient luminaires. The electricity costs of operating a halogen torchiere can be quite high, about $44 per year (assuming a 300-W lamp, operated for four hours every day, at 10¢ per kilowatt-hour). See "How much do the torchieres cost?" to compare the operating costs of halogen and alternative torchieres.

Consumers may also try to use the torchieres for reading, craft work, or other tasks best performed under direct light, and find them inadequate. Torchieres must produce relatively high light levels on the ceiling before enough light becomes available for these tasks. High or dark ceilings and walls further reduce the light available on task surfaces. Desk lamps or even table lamps with much lower-wattage lamps save energy and provide more appropriate task lighting.