What are the alternatives to halogen torchieres?
Manufacturers have introduced a number of compact-fluorescent-lamp (CFL) torchieres and at least one metal halide torchiere that offer similar light output and better energy efficiency than halogen torchieres and greatly reduce concerns about fire and explosion. Incandescent (A-lamp) torchieres are another alternative to reduce the risk of fire, although they are not necessarily more efficient than halogen torchieres. Alternative products are becoming available at retail outlets, online, and through mail-order catalogs (see "Where are they available?" for more information).
Incandescent-lamp torchieres
Many stores now offer torchieres with 100- or 150-watt (W) incandescent A-lamps. Like halogen lamps, incandescent lamps can be dimmed, and these torchieres are usually available with either continuous or trilevel dimming. Incandescent lamps are cooler than halogen torchieres, but they achieve lower temperatures primarily through reduced light output. They are about as efficacious as halogen lamps. Incandescent lamps are the least expensive of the lamps discussed in this report.
CFL torchieres
CFLs require a ballast to regulate starting voltage and operating current. The ballast increases the weight of the torchiere, although CFL torchieres are still lightweight and compact enough to be moved easily.

Several CFL torchieres include bilevel or trilevel switching, a few offer continuous dimming. Dimming generally increases the correlated color temperature (CCT) of CFLs, making their color appear cooler (unlike halogen and incandescent lamps). CFL torchieres are available in a number of lamp configurations containing the CFLs shown below. These CFLs are available in a range of CCTs with color-rendering indexes (CRIs) of at least 82, with efficacy ranging from 60-86 lumens per watt (LPW).

Figure 4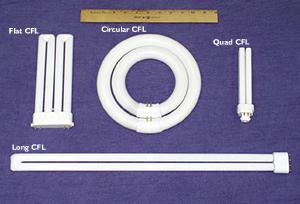 Metal halide torchieres
Like CFLs, metal halide lamps require a ballast to regulate starting voltage and operating current. The metal halide torchiere tested by NLPIP uses a 68-W metal halide lamp. Two 25-W (or lower wattage) incandescent A-lamps are included in the torchiere to provide light during the time needed for the metal halide lamp to reach full light output. The A-lamps can be turned off separately. The 68-W metal halide lamp has a CCT of 3200 with a CRI of about 75. The metal halide lamp is also more efficacious (at 88 LPW) than CFLs. However, it cannot be dimmed.