Do torchieres distribute light differently?
NLPIP tested one sample of each of six alternative torchieres (described in "What are the alternatives to halogen torchieres?"). NLPIP also tested one halogen torchiere five times, each time with a 300-W halogen lamp from a different manufacturer. NLPIP duplicated a typical application of the torchieres by positioning the torchieres in the corner of a room with a white ceiling and walls. The center of each torchiere was 1.5' (0.4 meters) from the walls. The ceiling was 8' 10" (2.7 meters) high. NLPIP measured illuminance at the points shown in Figure 5. Figure 5 also indicates the range of illuminances that NLPIP measured at some of the points.
Figure 5


In general, the halogen torchiere and the alternatives produced similar light distribution patterns on the walls and floor. Figure 6 shows the typical pattern of illuminance produced by a torchiere in the corner of a room.
Figure 6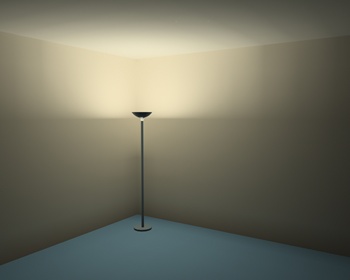 NLPIP compared rated light output to ceiling illuminance for the five halogen lamps and six alternatives. For the halogens and three of the alternatives (incandescent A-lamp, quad CFL, and flat CFL), the illuminance on the ceiling was directly related to the lamp's rated light output. In other words, the lamps with higher rated light output illuminated the ceiling more.
However, the long CFL torchiere produced higher illuminances on the ceiling than would be assumed from its rated light output.
The metal halide torchiere produced lower illuminances on the ceiling than might be assumed from its rated light output. It had a translucent shade instead of the usual opaque metal shade with a white interior. The translucent shade transmitted some light directly to the walls and floors rather than reflecting all light toward the ceiling.
The circular CFL torchiere also produced lower-than-expected illuminances on the ceiling. It had a translucent section at the base of the shade, which also transmitted some light instead of reflecting it toward the ceiling. Another possible explanation for this torchiere's low illuminance is that its low active power produces lower-than-rated light output from its lamp (see Table 3).
The rated light output of the five halogen lamps tested in the halogen torchiere varied by 25% (in other words, the lowest rated light output for a halogen lamp was 75% of the highest rated light output). The illuminances provided by the five lamps varied even more: the lowest illuminance at any measured point averaged only 59% of the highest illuminance at that point. These lamps were all tested in the same torchiere, which means that the variation was caused by the light produced by the lamps rather than by the design of the torchiere.