Do all LEDs have the same lumen maintenance characteristics?
No; lumen maintenance depends on several factors:
the LED package, as shown in Figure 1
the operating conditions such as ambient temperature or current through the LED
the LED color (different semiconductor materials will have different degradation properties; additionally, short-wavelength light will tend to cause more degradation in epoxy materials used to encapsulate the junction element; see Figure 12)
It is also important to note that the performance of a single LED in a system might not accurately represent the performance of the entire system. For example, LEDs near the center of an array might experience higher overall temperatures and therefore experience greater reductions in performance than LEDs near the edge of an array (Narendran and Bullough 2001).
Various colored LEDs have different rates of lumen maintenance. As an example, Figure 12 shows lumen maintenance of red, green, blue and white indicator-type LEDs.
Figure 12. Lumen maintenance of several colors of indicator-type LEDs as a function of operating time.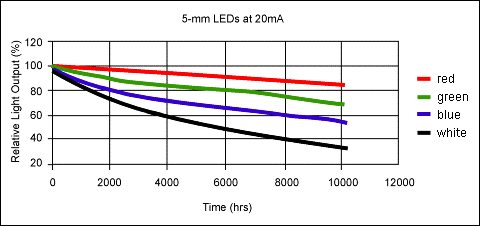 Illumination-grade LEDs have higher overall lumen maintenance but the relationships among the colors are similar.
The current through an LED is also a large determinant of its lumen maintenance characteristics. Operating LEDs at higher than rated currents accelerates the degradation mechanism by creating higher junction temperatures (Figure 13).
Figure 13. Overdriving phoshpor-based white indicator LEDs and the impact on lumen maintenance.
For some applications such as some decorative applications, lumen maintenance lower than 70% might be acceptable (Narendran and Bullough 2001). Until the industry develops consistent criteria for evaluating life for these types of light sources, the specifier or lighting system manufacturer must consult with the LED manufacturer to ensure that the sources will provide sufficient light output for the specific application.