Volume 2 Number 1
Copyright @1998 Rensselaer Polytechnic Institute

Lightfair International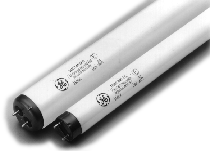 GE's RM Series
Over 11,600 visitors traveled to the Moscone Center in San Francisco, California, to take in the many exhibits and seminars at this year's LIGHTFAIR INTERNATIONAL. Sponsored by the Illuminating Engineering Society of North America and the International Association of Lighting Designers, this annual tradeshow has grown considerably over the past several years. More than 375 exhibitors showed an array of lighting products during the three-day event; approximately 30 of the exhibitors are headquartered in countries other than the U.S., including China, Canada, Germany, Mexico, Turkey, and the U.K.
Most of the activity at LIGHTFAIR 1996 centered around what Alfred Wacker, director of marketing for OSRAM SYLVANIA worldwide, calls "a wonderful display of components." According to Wacker, who also attended Hannover Messe this year, "LIGHTFAIR is a very good show for lamps, ballasts, and all of the components you need to make up a lighting system." Indeed, this LIGHTFAIR seemed to be the year of lamps, controls, and ballasts, especially dimming ballasts. In addition, there were impressive displays of remote-source lighting systems, especially those using fiber optics.
Linear fluorescent technology
First appearing last year as Philips Lighting's ALTO line, reduced-mercury lamps were again one of the big stories at LIGHTFAIR. Mark Roush, director of marketing for Philips' North American Division, explains that the ALTO line originated from anticipated legislation of heavy metals and Philips' efforts to reduce mercury contamination at the manufacturing point. "Those [early] efforts resulted in a process for dosing lamps very accurately," says Roush. "However," adds Roush, "there's more to a low-mercury lamp than just measuring smaller and smaller parts of mercury. You have to know how to overcome the effect on lamp performance."
This year, GE Lighting debuted its RM (reduced mercury) series in 4-foot, 34-watt T12 or 32-watt T8 types in several color temperatures. Philips expanded the ALTO line from 4-foot T12 lamps to include 8-foot T12 and 4-foot T8 lamps, most with high CRIs. OSRAM SYLVANIA (OS) showed reduced-mercury Octron lamps, either 4-foot straight or 15/8-inch U-bend, under its new "Ecologic" banner.
According to Bob Horner, manager of commercial engineering for OSI, "Any product that carries our Ecologic symbol passes the TCLP test, which then allows it to be disposed of as nonhazardous waste. The caveat here is that lamps should never be disposed of in any way that could lead to incineration. If incinerated, all the mercury goes up the stack and will definitely find its way back into the environment." Horner states that OSI's philosophy about environmental responsibility goes beyond product disposal. "We believe that every step (R&D, packaging, selling, use, and disposal) should be governed by this philosophy, and that it should apply, where applicable, across all lamp families."
One of the most important full-size fluorescent lamps featured by the major lamp manufacturers was the T5 linear lamp. These lamps, called Silhouette by Philips and Pentron by OSI, were introduced at LIGHTFAIR last year and should be available in the U.S. at the end of 1996. Both the standard-output (high efficiency) and the new high-output versions will be manufactured by Philips and OSI in the same lengths and wattages as those shown at Hannover. Initially, GE plans to introduce only the standard output type.
There was a large number of electronic ballasts for full-size fluorescent lamps, but dimming ballasts starred in this category. Interesting dimming ballasts were shown by Unidim and B+L Technologies. As of August, Philips will be offering a full line of electronic Ecotron dimming ballasts, as well as a Hi/Lo version that switches to 50% output. Both require no additional wiring. OSI will offer a new version of its Quicktronic series that dims to 20%. Lutron has broadened its line of Eco-10 ballasts (dimming to 10%) by introducing models for 0 to 10 volts dc operation.
One of the innovative fluorescent lamp luminaires was from Metalumen, which showed a line of louvered direct/indirect products that displayed imagination of design and good optics to control brightness from T8 lamps.
Several manufacturers mentioned that they are anxiously awaiting T5 lamp and ballast samples from the lamp manufacturers, which should result in many new luminaires at next year's LIGHTFAIR.
Compact fluorescent technology
CFLs continued to evolve and improve. As at Hannover, triple-tube lamps, coupled with amalgam technology, were major news items. For example, OSI showed a new line of four-pin amalgam triples up to 42-watt, while GE offered a line of both two-pin and four-pin triple compacts from 2700 K to 6500 K. GE also showed a new four-loop 42-watt design with 3200 lumen output.
At LIGHTFAIR some electronic screwbase CFLs sported new features. Philips took a "concept car" approach with its Earth Light Dimmable. This 23-watt lamp is a fully dimmable, screw-based, self-ballasted CFL that operates on a standard incandescent dimmer with no additional control wiring required. The lamp will not be available until 1997, but according to Mark Roush, "We wanted to raise the bar and show what LIGHTFAIR might offer in the future." OSI reduced the case sizes of its Dulux EL products, allowing for a better fit in retrofit situations. Panasonic remains committed to the capsule design approach and will offer them with glass enclosures up to 28 watts. The capsules will be available in colors, using single-phosphor technology.
Electronic ballasts for CFLs were prevalent. Advance Transformer unveiled its new Mark X dimming ballasts for CFL downlight systems. These ballasts can continuously dim two 26-watt quad, four-pin CFLs to 5% of full light output directly from two- or three-wire dimming control systems. Solium showed a variety of dimming ballasts and adapters for CFLs.
Downlight luminaires for compact fluorescent lamps are now standard fare in the U.S., but two products were designed for triple-tube or triple-loop CFLs: the Triples family by Edison Price and Prescolite's Triple-Tube Compact Fluorescent Downlights.
HID and electrodeless technology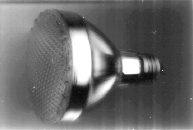 OSI's Designer Series Metalarc Pro-Tech
As at Hannover, the news in HID is better color, smaller size, and better performance throughout life - especially in metal halide technology. GE added new lamp types to its family of high-CRI, low-wattage ConstantColor CMH (ceramic metal halide). Philips added a new "fade-block" technology to its MasterColor line of metal halide lamps to significantly reduce fading and discoloration of merchandise due to UV. Philips also announced a "glimpse of the future" with the Rebel, a 22-watt PAR38 metal halide lamp that is integrally ballasted. Unlike GE and Philips, which use ceramic arc tubes to achieve better color appearance and stability, OSI employs a new arc tube shape, and improved chemistry and ignitor design to boost the CRIs of its new Designer Series Metalarc Pro-Tech lamps to 85 and greater. Venture Lighting also uses a newly shaped quartz arc tube called UNI-FORM to improve color properties.
Continuing the trend toward smaller envelope sizes, GE introduced a 330-watt metal halide lamp with the same overall size as the 175-watt version; it can be operated on a standard 400-watt ballast. OSI demonstrated its new Super Metalarc "pulse start" lamps designed to improve lumen maintenance by 20%, reduce color shift, and increase lamp life to 30,000 hours. Philips and GE announced future availability of similar technology.
In the HPS group, Philips added the PAR36 to its White Son line and will bring a low-mercury selection of HPS lamps under the ALTO banner in 1997.
The electrodeless lamps shown last year, Philips' QL and GE's Genura, were joined this year by Fusion Lighting's Solar 1000.
Of the numerous HID luminaires to examine at LIGHTFAIR, three were particularly distinctive: Hydrel's 7200 series, Thomas Lighting's Gardco Form 10X, and McPhilben 100.
Halogen technology
OSI's Designer Series Metalarc Pro-Tech
Halogen is alive and well in the U.S. but still not as important as in Europe. At GE, according to Mary Beth Gotti, manager of lighting education, the halogen story calls for "improved reflector designs to achieve smoother patterns and improved coatings to offer higher color temperatures." OSI featured the Tru-Aim Titan MR16 lamp with a hard titanium coating to decrease color shift and a new "UV stop" capsule. OSI also debuted the 35-watt Capsylite ECOLOGIC PAR 14, "the smallest line voltage halogen lamp in the lighting industry." Philips merged IR technology with its WISO optical system in ProACCENT, its first IR halogen lamp, available in 60 and 100 watt versions. Philips also reintroduced Halogena (60, 75, 100, and 150 watt), a popular medium-base BT15 lamp that was redesigned using lower pressure (2 atmospheres) so that it can be used in open luminaires.
Fiber optics
Of the many booths displaying fiber-optic technology, Remote Source Lighting International offered perhaps the best breadth of products, ranging from affordable Light Pumps to a prototype illuminator designed to pump out as much light as eight typical illuminators. Some applications shown for their many products were adjustable display case lighting, step lights, in-grade pavers, wall-washers, solar-powered street signs, and landscape lighting. According to Michael Usher, director of Fibre Light Systems, an Australian company working in cooperation with Remote Source Lighting International, "The plug and play approach is the big story here. We can use glass or plastic fibers, side-emitting or end-emitting fibers - even at the same time - with the same illuminator."
Controls
Dimming controls, personalized controls, digital controls, and integrated controls were very hot topics. In fact, controls of any type enjoyed the attention they have long deserved. Tom Scott, regional manger for Winona Lighting, gave insight to the importance of controls: "What's so great about controls is that they make people notice lighting. With controls, people can play with light and change it. Light becomes dynamic. Increased use of controls will probably do more for awareness of lighting than lighting itself can do."
Lutron's Spacer and The Watt Stopper's Isolé Power Station demonstrated the personalization of controls. Thorn Lighting's Sensa 2 and AtLite's StairLite appeared to be good examples of the integrated controls.
Finally, the winner of "Best New Product of the Year" award, the AR5 by Irideon, demonstrated the high level of interest in controllable luminaires.