Volume 2 Number 1
Copyright @1998 Rensselaer Polytechnic Institute

Hannover Messe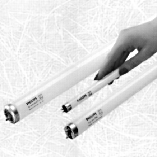 Philip's T12, T5, and T8 lamps
To say that Hannover Messe is a global experience is
eine grosse
understatement. There were 7200 exhibitors at this year's fair, over 700 of which comprised the World Light Show, at which companies from over 30 countries showed the latest in lighting systems and components.
Hannover epitomizes the trend toward globalization in the lighting industry. Chas Bernstein, U.S. representative for the German lighting company ERCO, states, "Many U.S. architects and specifiers are working abroad. Lighting companies in Europe have now truly embraced the global concept. We, for example, now have partners in more than 40 countries."
"America in the last few years has made a concerted effort to come to Europe," says Michael Rai, business development manager for Eurotec Fibre Optics (U.K.), a division of Schott Glasswerke (Germany). "So many American companies state that they now meet ISO 9000, the new International standard. As they do this, they step into a more unified European and worldwide market."
According to Joel Siegel of Edison Price, "In 1975, there was $500 billion (U.S.) in new construction in the U.S., representing 50% of the world's total; in 1995, there was $600 billion (U.S.) in new construction in the U.S., representing only 20% of the total. Siegel maintains that American companies must look internationally for business in order to grow.
Doing international business used to mean exporting. Now it means establishing plants and strong working relationships in other countries and making a genuine effort to understand the needs and strengths of various markets. Hannover Messe has become the one place where, in a short time, global partnerships can be established and strengthened and new trends can be compared.
Of course, products remain at the heart of any tradeshow-even one as large as Hannover. This year, further development could be seen in T5, CFL, HID and electrodeless lamps, and halogen, fiber optic, and controls technologies. Several trends cut across these categories.
T5 technology
T5 (16 millimeter) lamps received the most attention of all the fluorescent lamps shown. Introduced last year in "high efficiency" versions by Philips (The Netherlands) and OSRAM (Germany), but not in full production until the last half of 1996, this technology now includes "high output" versions. GE Lighting (U.S.) announced that it will be introducing 14, 21, and 28 watt T5 lamps later this year.
Input power
(watts)
Initial light output
(lumens)
Length
(millimeters)
High Efficiency T5 Lamps
Philips TL5 HE and OSRAM FH
14
1350
549
21
2100
849
28
2900
1149
35
3650
1449
High Output T5 Lamps
Philips TL5 HO, OSRAM FQ
24
2000
549
39
3500
849
54
5000
1149
49
5000(Philips)
1449
80
7500 (OSRAM)
1449
Ballasts at Hannover for these T5 lamps included only non-dimming electronic types. Philips, OSRAM, Energy Savings (U.S.), Tridonic (Austria), and HELVAR ELECTROSONIC (Finland/U.K.) were the major brands of these products. HELVAR and Philips have already incorporated the digital protocol from Echelon (U.S.) into certain models for use with building automation systems, and Tridonic will soon follow. The Philips ballast will offer a smaller footprint than other European ballasts for this lamp, joining Energy Savings and HELVAR.
Among the biggest lighting stories of Hannover 1996 were the slim, distinctive, innovative luminaires for T5 lamp systems. As Terry McGowan, manager of GE worldwide applications development, observes, "Fixture manufacturers here in Europe line up to enter new markets. They heavily invest in design and performance. The U.S. fixture industry, on the other hand, has been remarkably insulated from world trends. They [U.S. manufacturers] are investing to reduce cost." McGowan believes that U.S. luminaire manufacturers "must change from cost reduction to design innovation . . . in order to truly compete in the world market."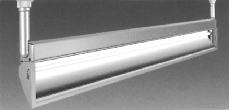 Arcade
Naomi Miller, director of the DELTA program for the Lighting Research Center, notes that although the luminaire designs for T5 lamps were innovative and well-crafted, "some manufacturers are not yet dealing well with the lamp brightness or the veiling reflections."
There were many striking examples of European design innovation using T5 systems. The Arcade by STAFF (Germany), which received an Industrie Forum Design award, is an open, asymmetric design that may be used either as a wall washer, spotlight, or uplight.
Another Industrie Forum Design winner was birdie by LUDERITZ LICHT (Germany). These recessed luminaires use layered plastic diffusion panels to reduce luminance "to an ideal level" while achieving high efficiency.
According to Stefan Fritzon of Fagerhult (Sweden), its new Combiform luminaire is designed for either surface or recessed mounting and has a 38-millimeter depth. This louvered direct luminaire achieves a 6% increase in efficiency over T8 models due to improved optics attributable to the smaller diameter of the T5 and an additional 10% efficiency due to temperature optimization.
Several companies pointed out that any energy comparisons between T5 systems and T8 systems should be carefully evaluated, because T5 lamps operate optimally at a higher ambient temperature than T8 lamps.
Compact fluorescent technology
Many new sizes, shapes, and wattages of CFLs were introduced at Hannover. Among them were the 55-watt, 4000-lumen version of GE's 2D lamp and Panasonic's 25-watt globe, intended to be equivalent to the 120-watt incandescent. The CFL category also included numerous triple-tube lamps and amalgam lamps, and more four-pin lamps continue to be developed for electronic and dimming operation.
Naomi Miller comments, "It was nice to see so many luminaires that now routinely use compact fluorescent lamps, and particularly interesting to see how many outdoor luminaires now use these lamps." Most residential luminaires, however, are still based on incandescent and halogen technology.
Two of the most innovative ceiling-mounted luminaires for CFLs were shown by ERCO (Germany) and WILA (Germany). ERCO showed a downlight that combines CFLs and MR16 lamps and is available with colored plastic louvers.
Tom Heelan, president and CEO of WILA Lighting Inc. in the U.S., explains why his company's semi-diffuse louver designs and optional colored glass accents were so popular. "There is now a backlash against the sharp cutoff in Europe. They are realizing . . . that they need to do more than just move people through harsh beams of light." A new feature in WILA's designs is the E Connect system. The aluminum housing is integrated with an electronic ballast in a plastic case, which snaps into a connector that can be installed independently of the luminaire.
An innovation using 18-watt CFLs was the Industrie Forum Design-winning illuminated floor panel system by DZ Licht (Germany). Using multilayered tempered safety glass with integrated opalescent foils for uniform illumination, these flush-mounted panels can support up to 5 tons.
The number of electronic ballasts for CFLs has been increasing every year. One of the neatest designs was OSRAM's Duluxtronic, an electronic ballast that doubles as a lampholder. This product was shown in several formats designed to reduce the wiring required by luminaire manufacturers.
HID and electrodeless technology
The news in HID is better color and smaller size. Improvement in CRI and lamp-to-lamp color consistency was featured by all major lamp manufacturers. Electronically ballasted HPS lamps with no mercury content were featured by Philips, OSRAM, and GE, addressing both color and environmental concerns.
Like last year, the two electrodeless lamps shown were Philips' QL and GE's Genura. Since then the QL has been improved. It operates with a smaller ballast and produces less electromagnetic radiation; it no longer requires that the luminaire be shielded to contain the waves. In two years, a 160-watt, 10,000-lumen version of the QL will be available. The Genura will likely be available in lower wattages, as evidenced by the engineering samples on display.
Halogen technology
Low-voltage halogen is still big news in Europe, particularly in the residential, retail, and decorative markets. According to OSRAM's Fred Steinmeyer, manager of export sales for North America, "Halogen in Europe is predominantly low voltage because manufacturers created the market. The standard European operating voltage, 230 V, is much harder to work with than the 120 V in the U.S., and also in Europe there is not as much emphasis on maintenance as there is in the U.S."
Nowhere at Hannover was low-voltage halogen more conspicuous than in the decorative displays, where stand after stand of bipins and MR16s peered through dichroic filters, were suspended from cables, and were attached openly to track systems. One reason for the popularity of these lamps, says Bob Horner, manager of commercial engineering for OSRAM SYLVANIA, the U.S. subsidiary of OSRAM, is that "halogen capsules are now being manufactured with lower pressure-2 atmospheres instead of 10. This virtually eliminates the possibility of rupture at end of life, and so the European authorities are once again allowing halogen in open fixtures, as long as it is of the low-pressure type."
There was also increased use of UV-absorbing quartz glass in halogen luminaires, which reduces UV emission. This may soon become standard in all halogen lamps produced by the major manufacturers.
Fiber optics
Of the dozen or so manufacturers of fiber-optic systems at Hannover, two of the most impressive systems were from Philips and Roblon (Denmark). Philips' illuminator can use both end-emitting and side-emitting fibers simultaneously. These systems have become increasingly popular in Germany, where a recent campaign for outdoor beautification began. Schott's Michael Rai also sees safety applications. According to Rai, about one year ago international cruise ships were subject to changes in safety requirements, and fiber-optic lighting can help meet some of these requirements. Soren Tjonneland, product manager for Roblon, sees an increasing market primarily for specialized uses. Roblon's systems, for example, are developed for freezer cases and food displays, where temperature and humidity can be a problem for conventional lighting systems.
Controls
Dimming and digital control were the two most exciting themes in this category. Manfred Breul of HELVAR ELECTROSONIC states that there is "an increasing market in Europe for dimming controls, especially for energy reasons." Preset dimming for both fluorescent and incandescent sources is finally catching on, especially in the more prestigious buildings.
Digitally addressable ballasts (dimming or not) for fluorescent lighting, along with other addressable components such as switches and HVAC controls, are in high demand by European building owners who plan to install building automation systems. Breul believes that within two years, Europe will have a standard for digital control protocols for ballasts. However, Barry Haaser, director of European marketing for Echelon, whose Echelon protocol allows different types of controls to work together in an "open network," does not believe that a European standard will ever be developed. According to Haaser, there are several different types of proprietary protocols, and each manufacturer would like to see its own adopted as the standard.
In the lighting industry, we in the U.S. often say that trends begin in Europe and work their way here. However, Steffen Syrbius, general sales manager for DZ Licht, says that increased use of color in European commercial lighting (especially outdoor luminaires) is due to the influence of U.S. building construction. "We are receiving many more calls for powder coated finishes, which were developed in the U.S.," he says.