Online Course on UV Measurement and Application
The Fall 2020 course has now ended. Stay tuned for future dates.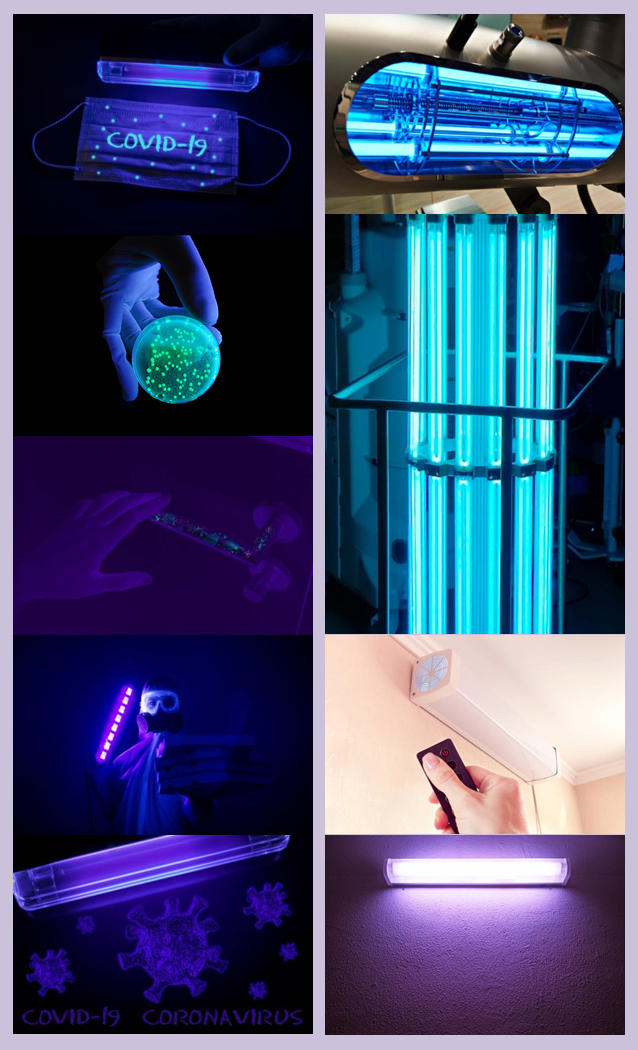 The COVID-19 pandemic has led to a growing interest in the use of UV (ultraviolet) systems for disinfection in a range of applications. These include water treatment; heating, ventilation, and air conditioning (HVAC) systems; public transportation (e.g., buses, trains, subways, airplanes); as well as in a number of building types including health care and long term care settings; offices; food service; and others. There are several important questions to ask when selecting and using a UV disinfection system or product:
What characteristics should I look for when selecting a UV disinfection product or system?
How do I know if the product is safe?
How do I know if I have installed and am using it properly?
How do I ensure that I am properly protecting building occupants when the UV system is operating?
How do I know that the product or system is providing the proper UV dosing to effectively disinfect a particular room or space?
How do I know if the proper UV dose is being provided over time as system components degrade?
How long does the system need to operate in order to provide the required level of disinfection?
The answers to all of these questions have one common element – the need to properly measure and evaluate UV disinfection products.
Terry McGowan, Director of Engineering for the American Lighting Association, talks about the importance of proper measurement of UV as applications of this technology grow.
The Lighting Research Center (LRC) has been conducting research in the area of UV disinfection systems for over 20 years, including the proper measurement, evaluation, and application of these systems. Based on this knowledge, the LRC has developed this course to assist lighting specifiers, facility managers, end-users and others to ensure that the UV systems they select are safe, being applied properly in each application, and are effective at providing required disinfection properties.
Who should take the course?
This course will provide important information to a range of professionals including:
Specifiers of UV disinfection systems
Facility managers and administrators
Real estate managers
Building operators
UV equipment manufacturers, installers, and maintenance personnel
HVAC and building system engineers
Product designers and engineers
Laboratory and testing personnel
Research & development professionals
Distributors and sales professionals
Course Objectives
At the conclusion of the course, attendees will be able to:
Define the radiometric measurements units of UV radiation including UV classification, wavelengths, and absorption, transmission, and reflection properties of different materials and surfaces
Identify and describe important characteristics of the various electric sources of UV radiation including life, efficacy, spectrum, size, and optical distribution
Ensure proper safety and personal protection when working with UV products
Understand minimal threshold values and safe exposure limits for UV
Select and use various types of UV measurement equipment, instrumentation, and meters including understanding sensor types; equipment sensitivity, range, and calibration requirements
Implement best practices for taking accurate field measurements of UV
Analyze the requirements of various applications of UV radiation
Course Certificate
Participants who successfully complete the course will be awarded a certificate from the Lighting Research Center including 5 continuing education units (CEUs).
Course Description and Schedule
The course will be held in two, 2 ½ hour sessions over a period of two days. The first course session will be held on Monday, September 14, 2020 and the second session will be held on Wednesday, September 16, 2020. Sessions will run from 1:00 PM to 3:30 PM US Eastern Time each day.
Click here to view a printable course schedule and agenda [PDF]
Cost and Registration
The cost of this course is $1,200. A 20% discount is available to employees of LRC Partners and Alliance program members. A 50% discount is also available to residents of New York State, made possible by funding from the New York State Energy Research and Development Authority (NYSERDA). Registration in this course is limited. A deposit of 50% of the registration fee is required at the time of registration. The remainder of the fee is due by September 4, 2020. You can register at the link below.




Faculty
Andrew Bierman, MS — Professor Bierman is a senior research scientist at the LRC and an expert in photometry and radiometry. He is currently conducting research on the non-visual effects of light on health and circadian regulation. He has conducted evaluation of UV systems including those used in water treatment and HVAC duct applications. Other areas of research include mesopic vision (vision at low light levels), color vision, lighting controls, measurement of lighting efficiency, photosensor technology, and fluorescent lighting systems. Professor Bierman is one of our country's leading experts in photometric measurement and is the head of the LRC's photometric laboratories.
Jean Paul Freyssinier, MS — Professor Freyssinier is a senior research scientist and adjunct assistant professor at the LRC. His research includes solid-state lighting, LED performance, technology transfer, energy-efficient lighting design, photometry, the spectral effects of lighting, and education. Since 2000, he has been involved in lighting technology research, development, and evaluation at the LRC. His previous experience includes working as principal of design at a full-service architectural lighting and automation design firm and as project manager at an energy management firm. He has taught in the LRC's graduate education program for the past 15 years and lectures frequently at conferences and seminars. He is the author of more than 35 scientific and technical articles related to energy efficiency, photometry, improved LED performance, and field applications, and co-author of six patents on LED remote phosphor technology.
Indika Perera, PhD — Dr. Perera is a research scientist at the LRC. His research interests include thermodynamics, heat transfer, material characterization, and additive manufacturing of solid-state lighting components and systems. Dr. Perera's expertise is in the thermal management of LED lighting systems and of phosphor and down conversion materials used in LED packages, including the development of a mathematical model for predicting the temperature distribution in an LED phosphor layer. His current research includes investigations of the thermal properties of 3D-printed heat sinks and components for use in LED lighting systems, characterizations of composite materials used in additive manufacturing, and analysis of theoretical models for predicting the thermal conductivity of 3D-printed components.
For more information
Please contact LRC's Director of Educational Programs, Daniel Frering, at frerid@rpi.edu to learn more.
Industry support
The following companies have provided equipment and other support to the UV Measurement and Application online course: