Graduate Education
M.S. in Lighting
Now offering a paid post-graduation externship option at a leading lighting manufacturer, design firm, or government organization!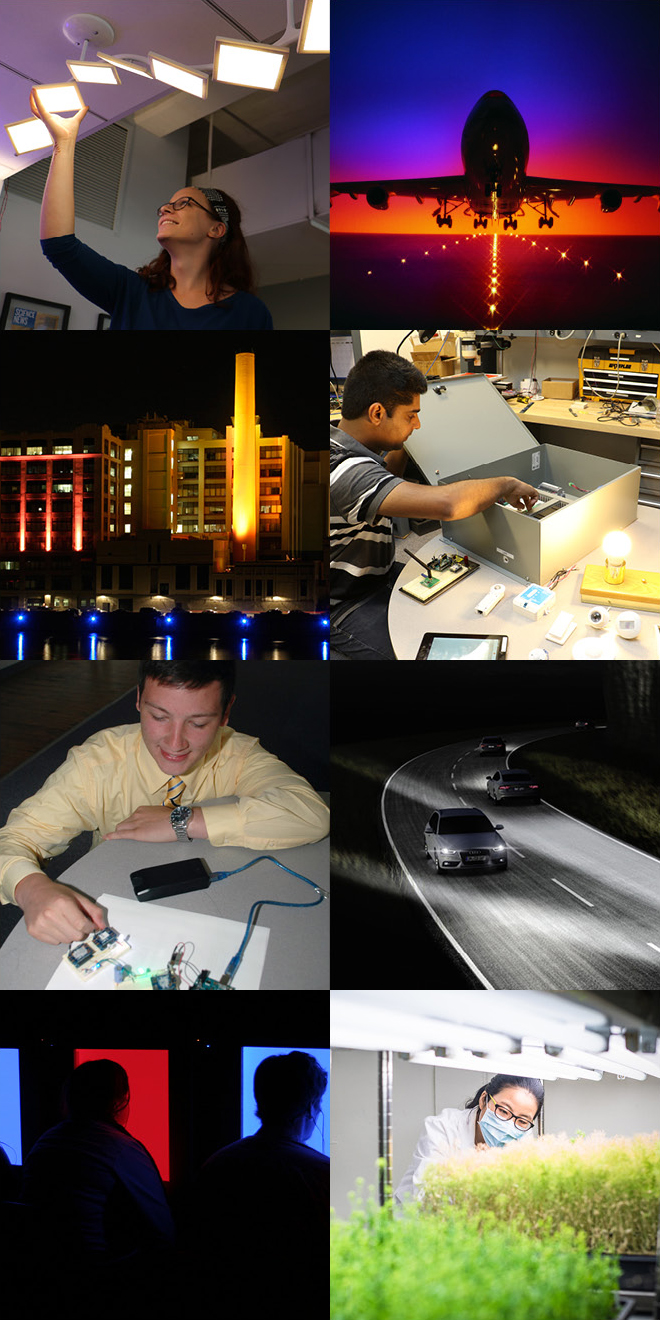 The Master of Science in Lighting is the premier master's level graduate degree offered in the field of lighting, focusing on technology, design, human factors, and applications. This 30-credit, two-semester, multidisciplinary degree from Rensselaer Polytechnic Institute allows students to work closely with world-class faculty experts in architecture, engineering, design, and bioscience, including the emerging fields of light & health and horticultural lighting. The two-semester program allows for a hands-on study of lighting, which culminates in a master's project in the second semester during which each student studies a particular area of interest directly with a faculty advisor.
The LRC's M.S. in Lighting Program now offers a paid post-graduation externship option for three months or more with one of many lighting organizations that have agreed to host LRC students, including Current by GE, OSRAM, NYSERDA, Bridgelux, Hubbell Lighting, Ketra, Lumileds, and USAI Lighting.
The M.S. in Lighting program is geared toward students who wish to gain a broad education in lighting research and design while working closely with more than 35 LRC faculty and staff. Course content and curriculum are continually updated to include the latest advances in lighting research, technology, and design to assure that students receive an education on the leading edge of lighting. Students who receive financial aid in the M.S. in Lighting or Ph.D. programs will work as research assistants at the LRC, allowing them to participate in a variety of research and design projects over the two semesters of the program.
This 9-month degree program is also ideal for people with an entrepreneurial spirit who want to turn new, innovative ideas into viable lighting products or services. The program includes product innovation and development, designed to help students better identify and understand industry opportunities and the innovation process with a focus on lighting products and services that benefit society and the environment.
Students completing the M.S. in Lighting degree can consider continuing on to further study in the Ph.D. in Architectural Sciences with a Concentration in Lighting, or other Ph.D. degree options, to prepare for university and/or advanced research careers.
Graduates with the M.S. in Lighting degree can go on to careers in the lighting industry or the lighting design field with a firm foundation of knowledge in all areas of lighting.
For more information on the program, please email Dan Frering or call 518-687-7100.
Thank you to the following organizations that host externships for M.S. in Lighting graduates: